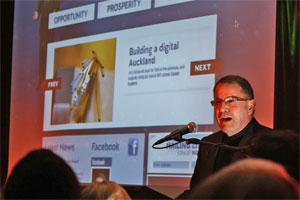 John Banks launched his - new website - at trendy Sale St bar last night with plenty of old familiar faces in attendance including David Henderson, Michelle Boag, David Walden, Graham Wall and Pat Rippin, who suffered a minor heart attack on Saturday. But a cardiac arrest wasn't going to keep him away from supporting his old mate.
Only business partners Don Brash and Chris Huljich (father of Peter) were noticeably absent.
The polls may have arch rival Len Brown of Manukau out in front, but the 200-strong crowd at last night's event were convinced their man Banksie would pull through on the day.
But at the cash bar, it wasn't the mayoralty race that had two prominent political manipulators plotting and scheming. They were speculating as to who may be putting their hat in the ring now high-profile Auckland business leader Michael Barnett is pulling out of the super city elections sadly due to cancer.
The central city ward of Waitemata is up for grabs. Auckland Regional Council chairman and battler for the working man Mike Lee is standing for the left, but who else is going to throw their hand into this key ward, that includes the CBD, Newmarket, Parnell, Ponsonby, Grey Lynn, Herne Bay and Westmere?
The power players last night - who I better not name - were throwing a couple of names about, including former Auckland Mayor and muesli king Dick Hubbard and fashion designer Denise L'Estrange-Corbet of fashion house World.
Dick needs no introduction. He won the mayoralty off John Banks in 2004, then spectacularly lost the mayoralty off a transmogrified Banksie in 2007.
Since then he has made noises about standing for the Auckland Council and has predictably donated money to the Len Brown campaign - and not because he supports Len.
Now living in a plush Parnell apartment on St Stephen's Avenue along from the PM, Dick presumably is spending a lot of time pacing around pondering his future as to whether he'll join fellow former Mayor Christine Fletcher for a seat at the top table.
L'Estrange-Corbet has joked with friends recently about standing for the mayoralty. It's not clear whether the gossipy power players are aware of that, but they certainly reckoned she'd be a shoe-in to stand for the central ward as an anecdote for Mike Lee.
She is liberal, yet business-minded, successful, and most importantly in local body politics - has great name recognition. And she oozes passion and knows how to kick butt. A former star of the Big Little City television commercials, Denise would be a great fit with central Auckland.
My advice: Dick should keep focused on penning his muesli newsletters. Denise should hunt down an application form. Nominations close noon 20 August.