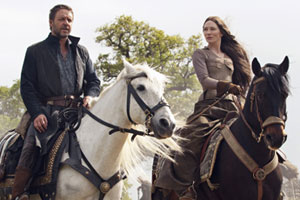 You can't get two more English icons than Robin Hood and Maid Marion. But in Ridley Scott's new, big-budget adaptation of the classic folk tale, released this Thursday, a New Zealander and an Australian - Russell Crowe and Cate Blanchett - take on the roles of the rebellious archer and his female foil. However, the 46-year-old Wellington-born actor moved permanently across the Tasman more than two decades ago and has called Sydney home ever since.
"How do you guys feel about old Rusty being referred to as an Australian?" asks Blanchett, with a laugh.
"But it's interesting because Robin Hood is made by a northerner and a northerner has a different perspective on English history than someone who has been born and raised in London," she adds, referring to South Shields-born Scott.
"In a strange way, we're all outsiders on this particular bit of English history. We all have an outsider's perspective so maybe that is what drew us all together on it."
Dressed in a slinky black trouser suit, Blanchett is the epitome of laidback Antipodean cool as she kicks off her shoes and relaxes on a sofa at London's Dorchester hotel.
It has certainly been a turbulent week for the Melbourne-born 40-year-old, who was stranded in Germany filming the Joe Wright-helmed thriller Hanna with Eric Bana and The Lovely Bones' Saoirse Ronan when the Icelandic volcano erupted, causing travel chaos throughout Europe.
"I wasn't stuck in some airport like all those poor people were," she says, looking up at me with her steely blue-grey eyes.
"And what about Iceland? We've all sadly been inconvenienced but there's no talk about economic aid for Iceland. Between the economic crisis and the volcano, the country has been decimated."
Scott and Crowe first teamed up on the 2000 Roman Empire epic Gladiator, which was a box office smash and won five Oscars, including Best Picture and Best Actor for the Kiwi.
Since then the pair have worked together again with varying degrees of success on romantic comedy A Good Year and the contemporary thrillers Body of Lies and American Gangster.
As it also harks back to a mythical past, Robin Hood has been seen as an attempt to recapture old glories. However, the story of the infamous outlaw and his Merry Men hasn't been as durable as the more dynamic Arthurian legends.
"I was slightly surprised that Russell and Ridley were doing it," admits Blanchett. "It didn't seem like the sort of territory they would tread. But that's the thing about myths; you can look at the whole thing askance and suddenly it is all reinvigorated.
"I grew up with Errol Flynn playing Robin Hood, which was completely different. He was more of a personality, while Russell is definitely an actor. He's a very different presence and it's a very different film. It's a much more soulful, deeper and more thrilling film, whereas Errol Flynn's The Adventures of Robin Hood was a bit of a romp."
Crowe is not a fan of any of Robin Hood's previous cinematic incarnations.
"As a child I was massively into the Richard Greene television series but I got to play my part in Ridley's version," he says.
"The core value of the story is that there's somebody out there who is prepared to rob the rich and redistribute those riches to the poor. That's what has kept it alive for so long. It's an incredible privilege to be in a situation where you're making a movie that has this sort of history as a narrative."
However, there's very little banditry in Scott's film and it is not until the end that all the usual elements fall into place as the characters retreat to Sherwood Forest. Critics have suggested that it should have been called Robin Begins, as it is essentially an origin tale. It opens with Robin Longstride (Crowe), an archer in Richard the Lionheart's army, returning from the Third Crusade alongside his Merry Men-to-be, Will Scarlet (Scott Grimes), Little John (Kevin Durand) and Allan A'Dayle (Alan Doyle).
He assumes the identity of late nobleman Robin of Loxley, the husband of Blanchett's Lady Marion, to stop his land being seized by the Crown. Light relief is provided by Mark Addy's beekeeping Friar Tuck, and traditional foe the Sheriff of Nottingham (Matthew Macfadyen) only plays a bit part.
Instead, Robin is pitted against Mark Strong's scar-faced Chancellor Sir Godfrey, who is secretly plotting with the French to topple King John (Oscar Isaac).
"We play pretty fast and loose with history but history is there to be malleable," says Blanchett.
"People criticise film-making for trying to rewrite history but it's not. It's just using history to tell a story; that's what people do when they tell a story. If this story were told from the French perspective, it would be entirely different because their experiences would be different.
"I had a similar experience not so long ago with my sister. We were recounting something that happened when I was 12 or 13 and she was 11. I told the story and she said 'that's not what happened'. She had been sitting in an entirely different part of the room in a different mood. I suddenly saw this whole family moment in an entirely different way."
Over the centuries, Marion has become much more of a cipher than the other characters. Her background and personality have changed according to the conventions of the time.
"She's quite a shadowy figure," says Blanchett.
"There's much more baggage if you play Robin Hood but Russell's not wearing tights, he's wearing nice leather pants. But I don't really remember her from any previous versions of the story. It was always Robin Hood or Friar Tuck that you remember so she can be constructed and interpreted according to the needs of the film."
There is certainly nothing maid-like about Blanchett's Marion, who holds her own alongside the high testosterone of Crowe and his macho mates. In shades of Liv Tyler's Elven princess Arwen in The Lord of The Rings, she even participates in the climactic final battle.
"It's a much more action-driven film than previous Robin Hoods so of course I'm going to get involved with that," she says.
"Ridley didn't want Marion to be a damsel in distress. He wanted her to play an active part and to give Robin and the Merry Men a run for their money, so maybe that's why he was interested in me."
Blanchett has been rumoured to be reprising her role as the ethereal Lady Galadriel in Guillermo Del Toro's upcoming The Lord of the Rings prequel, The Hobbit. However, her character doesn't appear in J.R.R. Tolkien's original novel and Blanchett herself is none the wiser.
"I keep forgetting to call my agent, which I should because everyone keeps mentioning it to me," she says with a laugh. "But no one's called me so I wouldn't have thought so.
"I loved filming in New Zealand. Strangely, Australians go abroad all the time but they don't go to places closer to home, so that was the first time I'd been to New Zealand. It really is God's country because it's just so unbelievably beautiful."
* Robin Hood is out in cinemas from Thursday.