Writer Lionel Shriver tells Stephen Jewell how a friend's illness inspired her to take on the injustices of the healthcare system.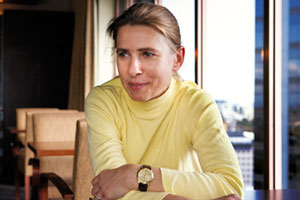 Centring around a husband whose plans for an idyllic retirement are spoilt when his wife is given only a few months to live, Lionel Shriver's latest novel So Much For That is a damning indictment of the American healthcare system.
However, while Shriver lists the costs that he incurs in minute detail, the London-based American insists the book is just as relevant to New Zealand or Britain, where she has lived for 23 years.
"Somebody told me at the Cambridge Literary Festival the other day that you could do a similar book with only slight variations as a scandalous story about the NHS," she says. "But it actually asks the much larger question of how much money are we willing to lavish on the minimal survival of the terminally ill, which applies across the board in Western countries."
Shriver cites how, despite doubling its budget since 1997, the NHS will soon face a deficit as it struggles to cope with Britain's rapidly ageing population.
"They're going to have many illnesses which require expensive drugs that could keep them alive for a little while longer," says the 52-year-old.
"This is a much bigger issue than just in the US and we are going to hear more about it. The people who are getting older are very demanding and have high expectations of the system. If there's a drug out there that can help them even just a little bit, they're going to want it. Who is going to tell them, 'sorry, three months of your life are not worth $2 million'? That sounds terribly brutal but those kinds of calculations are necessary if we're going to provide healthcare to anybody."
So Much For That was inspired by the death of a close friend, who suffered from mesothelioma, a rare form of cancer that her character Glynis Knacker develops in the book.
"That put me through what having a grave illness like that was like in a much more intimate fashion than I had ever been subject to before," recalls Shriver.
"Her treatment cost $2 million, so I used that figure in the book. I wanted the amounts to be credible and using a real case was the best way to do that. In her case, her treatment probably extended her life by about three months, which is a little over $207,000 a day."
Shriver also drew on a New York Times article that claimed that medical bills were the main cause of bankruptcy in the United States.
"It also said that the majority of those going bankrupt actually had health insurance," says Shriver, who details how Glynis' husband Shep is forced to contribute towards the cost of "out of network" treatment.
"That was the giveaway that the whole system wasn't working. It enraged me because that is what people are paying for; to be protected and not go broke. It's not working because the insurance companies are managing to offload so many expenses."
According to Shriver, not much has changed despite Congress recently passing Barack Obama's Healthcare Bill.
"That still doesn't account for out-of-pocket expenses so Shep would still be done for 40 per cent of the bill," she says. "But a little is better than nothing, so I guess I supported it. It's only slightly putting off a major economic crisis concerning healthcare costs in the US. It keeps the same private system in place, so all the problems I raise in the book are not going to go away."
Rather than adopt Glynis' point of view, Shriver tells her tale from Shep's perspective.
"That was a very considered choice on my part. It would have been a little too claustrophobic for the reader. It would have made people even more reluctant to read this book concerning terminal illness and the 'D-word'. Nobody would have bought it. I don't think the reader wants to be trapped inside the mind of somebody who is going to die."
But that is not to say that So Much For That is a gloomy read.
"It sounds like a drag but it's not," laughs Shriver. "You can't trust an author's opinion of their own books but there's plenty of evidence that people find it funny and entertaining and even a page-turner. The characters have a lot of energy and there's even a happy ending. But it's hard to convince people of that."
Shriver has a reputation for courting controversy. Her 2005 Orange Prize-winning novel We Need To Talk About Kevin depicted the aftermath of a school shooting. When her last book The Post-Birthday World was published a couple of years later, she raised the ire of some feminist commentators by declaring she would rather be a successful wife than a successful writer.
"I'm candid about the fact that if you want escapist literature, then my books are probably not for you," she says with a wry grin. "This is certainly a book that tries to deal with real life rather than fantasy. If that's not what you want, if you just want to be distracted, you shouldn't buy my books."
However, Shriver is contemplating writing something slightly more lighthearted.
"I'm in a real quandary about what to do for my next book," she admits.
"I was originally planning to do something about immigration, which is extremely prickly and one of the heaviest subjects on Earth. But I've started wondering about doing something that's a little less issues-oriented so I'm keeping my mind loose. There are issues I care about, that I want to address but I don't think fiction should exclusively be a vehicle for political viewpoints. I don't want to be trapped into being an issues writer."
Lionel Shriver will appear in the opening night of the Auckland Writers & Readers Festival, Aotea Centre, Friday, May 14 at 8pm and on Saturday, May 15, 1-2pm.