Courteney Cox's new role is her most daring and controversial yet. She tells Rebecca Barry why she's basically playing herself.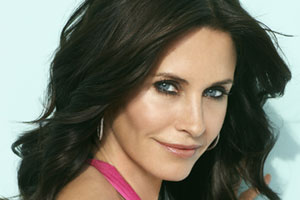 Courteney Cox doesn't flinch when asked how much she is like her new television character, Jules.
"So much it hurts," she says.
So it's fair to assume there's a lot to be learned about the former Friends star by watching the pilot. In her new sitcom, Cougar Town, Cox plays a divorced real estate agent trying to balance her sad personal life (to begin with, anyway) with bringing up a teenage son. Meanwhile, her two best friends - who couldn't be more different and appear to not like each other much - are determined to see her luck change on the dating circuit.
In that first episode Jules comes across as a killjoy, overly familiar with her son (at one point he tells her she's not allowed to eat bananas anymore because of the connotations). The opening scene finds her facing off with the bathroom mirror, examining her jiggly chicken wings and scowling at the signs of ageing on her face.
So if Cox and Jules are interchangeable, how accurate a description of the star is this? Cox walks onto the set of Cougar Town wearing not a skerrick of makeup, yet still looking as pretty as half the world remembers her from Friends.
She has several tiny hoop earrings in each ear, a jersey in a green so blinding it practically screams 'I don't care'.
It appears her body-image issues during the Friends years - when she used to smoke like a chimney in lieu of eating - are well behind her. That's all Cox poking fun of her flesh in the pilot.
"I avoided some salt the night before," she says, when asked how she prepared for the episode.
"I'm not that disciplined anymore. I can't be - I'm too hungry all the time."
In Cougar Town, Jules runs quickly into the discrepancies between 40-something single men who sleep around - the smarmy neighbour she can't stand (but is possibly attracted to) frequently pulls women half his age while she flounders at home on Friday nights.
In the real world, there's no question of sexual inequality. Cox is executive producer on the show and calls the shots on the set. A killjoy? Unlikely. She just had a real live cougar at her house for dinner, she hoots.
Single and needy? Cox is famously married to David Arquette; they have a 5-year old daughter, Coco. Cox, now 45, says she's not hugely enamoured of ageing but having Coco just before her 40th birthday helped to take the sting out of it. She is often pictured in scenes of domestic bliss, as though she couldn't be happier being any other age.
So where are the similarities? Jules doesn't hold back in telling people what she thinks of them. Sometimes she should hold her tongue but doesn't.
"Wow, you are really black!" she tells an African-American bouncer guarding the club door to her first sexual experience as a "cougar".
"I do do that," says Cox. "I'm very blunt, Jules is very blunt."
Co-star Josh Hopkins, who plays Jules' also newly divorced but oversexed neighbour, nods his head in agreement. "I come in and she says, 'Your shirt looks terrible'."
Cox: "Well, all my friends say, if you want to get the truth, you come to me. And I break it down, I tell it like it is."
Perhaps it's this side of Cox's personality that led some to believe she didn't exactly possess the girl-next-door gene demonstrated by her best buddy and fellow Friends alumnus, Jennifer Aniston. It didn't help that during the publicity-go-round for Dirt, the last show she starred in and executive-produced, Cox didn't emanate warmth, cutting many of her answers frostily short.
Even if she had played the sweetheart card, it wouldn't have helped her chances with that show - Dirt, in which Cox abandoned her funny-girl side for steely reputation-crushing tabloid editor Lucy - lasted all but two seasons.
So what did she learn from that experience she's been able to apply on Cougar Town?
"Everything," says Cox. "How important it is to be completely involved. How important it is to speak up and have your voice be heard. I just think it is really important at this stage in my career to have a say and not back down on things because I don't want to rock the boat."
She has put her foot down many times on Cougar Town, and is at pains to remain at a distance from neurotic Monica Geller. Rather than shy away from her feisty side, the show's creator Bill Lawrence was attracted to it. He first met Cox when he worked on the first year of Friends; when it came time to cast the new sitcom, he knew he needed a bold, self-deprecating comedian - and that Cox would fit the bill.
"I knew she would be right for it. I would read interviews of her and people would say, 'Oh, you're so pretty.' She always takes the time to say, 'By the time you see me in the picture, I've had a team of makeup people, a team of hair people, a team of lighting people and a team of photo retouchers. And because it's my job, I work out four days a week for that stupid, f***ing picture.'
"How is it possible not to have a crush on Courteney?" he beams.
"She is so nice that for the first few days you think it's fake and she is going to turn the corner."
She almost did. At first, Cox wasn't sure it would be a good idea to star in a show that poked fun at women of a certain age. As zeitgeisty as the word "cougar" is, that it insinuates older women preying like dangerous animals on young, defenceless men has not been met with praise. Sometimes it's hard to tell if the show is laughing with - or at - Jules. The show's screechy tone has also polarised the fans from the critics.
"I remember when Bill told me the name I was like, 'That's ridiculous. You can't keep that name.' But it's definitely an eye-catcher, so I think it is good. But the show is so not about that."
Jules won't always date younger men in the show, she says. The real story is about a woman starting a new life in the wake of a divorce, and the difficult relationship dynamics that come out of that. Jules is clueless about getting back on to the dating scene, so she enlists her friends and neighbours to help her out.
"It is a wish-fulfilment show for women in their 40s," says Cox, whose husband David Arquette is seven years her junior.
"I like younger guys. I used to like older guys because I wanted to learn from them. I had some boyfriends that were older - one I dated was 16 years older than me. And I loved that he could teach me all the things that I didn't pay attention to at school."
Lawrence is just as aware that the show wouldn't work if it was purely about cougars on the prowl, or "women doing broad, ridiculously goofy things and not speaking in any way, shape or form on a real emotional level, even to the exaggerating extent that they did in the pilot, which probably pushed it too far, it would be a disaster".
Now that Jules is single, she feels torn between her best friend Ellie (Christa Miller), who expects her to marry and have kids, and younger friend Laurie (Busy Philipps), who thinks she has a partner in crime.
Speaking of which, it's tempting to wonder how Cox, a married mother of one, can get away with parodying the likes of her 40-year-old single best friend, Aniston.
But Cox says her old Friends co-star takes it all in good humour, and she is hopeful they'll find the time to work together on this show. The last time, since Friends, was Aniston's much-publicised Dirt cameo during which the friends kissed on screen. Lisa Kudrow also appears in Cougar Town, playing a bad-tempered plastic surgeon.
Having a dig is a road many actresses fear to tread. But Cox says if there's one thing age has taught her, it's to be fearless.
"I will do anything," says Cox. "I might hate it afterwards but I will try."
* Cougar Town starts at 8pm on Wednesday, TV2.