What: Tic Tic
Where: Limelight Lounge, Aotea Centre, to Saturday
Verdict: A comic but deeply personal take on Tourette's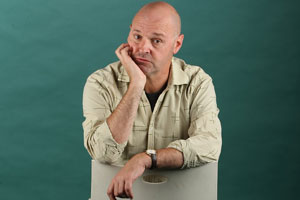 At the more refined end of the Comedy Fest spectrum is an elegant memoir chronicling Paul Barrett's life-long engagement with Tourette's syndrome.
The show opens by debunking the popular and wickedly appealing myth that Tourette's provides some sort of medical sanction for uncontrollable outbursts of extravagantly abusive foul language.
The syndrome is most commonly manifested in muscular or vocal tics - but the exact nature of the condition remains elusive.
For most of his life, Barrett has experienced Tourette's as an undiagnosed set of nervous twitches and a chronic inability to remain still.
As he was growing up in Tawa in the 1960s, these symptoms made him the butt of crude schoolyard humour and severely proscribed his educational opportunities.
The finely crafted script draws on these often-poignant memories that are presented with sardonic, self-deprecating humour. With impressive command of voice and gesture, Barrett brings to life an assortment of the instantly recognisable Kiwi characters who shaped his childhood in Wellington.
An interview with a laconic careers adviser triggers an imaginative fantasy sequence in which Barrett speculates on how his condition might affect his job prospects.
His dream of becoming an actor is roundly dismissed, and Barrett brings the house down with a bitterly sarcastic recollection of a rejection letter he received from the NZ Drama School.
An alternative career in medicine throws up the macabre image of a brain surgeon succumbing to muscular twitches in the middle of an operation.
His romantic life suffers a similar fate as Barrett has a prospective date fleeing after an awkward attempt at small talk spirals into a deranged monologue that resembles Robin Williams on speed.
The show also highlights Barrett's musical abilities, with a grand piano that is used to playfully evoke time travel as well as providing some engaging musical interludes.
Clever Tin Pan Alley-style songs take us on a madcap digression into the history of Tourette's with a hilarious send-up of the kind of sexually obsessed Freudian analysis in which a cigar can never simply be a cigar.
The show concludes with a moving plea for tolerance and a life-affirming realisation that once Barrett accepted his condition, Tourette's ceased to be an obstacle.