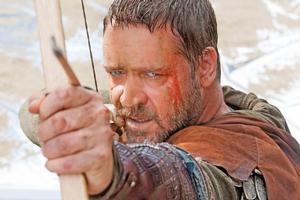 When it comes to the outlaw Robin Hood, a few predecessors spring to mind. The Adventures of Robin Hood in 1938 starred Errol Flynn; Sean Connery donned the tights in Robin and Marion in 1976 and Kevin Costner was famously lampooned for one of the worst British accents to be heard on the big screen in Robin Hood Prince of Thieves, in 1991.
With this in mind, do we need another one?
Scott, a well-known history buff, says, "When I was asked, 'do you want to do Robin Hood?' I immediately thought, 'why not?' Many have been done. I liked the Mel Brooks version (Robin Hood: Men in Tights)," he laughs. "I thought to myself, 'can we do it better?"'
Considering the same question was asked of Scott a decade earlier when he made Gladiator, he said, "We did the first good one," he smiles.
"And everything since then has been shit, okay? All I did on Gladiator was make it real. All the films before it were vaguely Hollywood-y.
Even as a child I thought, 'Why are all these guys standing there in skirts?' I never got it. And Robin Hood is not fictitious, I believe. He's walking through a real landscape that could have occurred anytime in the 14th century, really, petering out at about 1400."
Well-versed on the merits of the infamous archer, Scott says, "Robin Hood is the classical Dudley Do-Right, isn't he? He's a very masculine character, everyone likes him, absolutely. He's an historical, fascinating man who coincides with the birth of chivalry in the Middle Ages. Knights were always chivalrous. It was always about the warrior doing the right thing."
The enduring appeal of the Robin Hood mythology is the endearing quality of this famed renegade who stole from the rich to give to the poor. However, Scott decided not to go this way, instead giving us a history lesson with the back story of his protagonist, whose actions may or may not have been fictional.
"I wanted to tell a story where we understand the politics. I want Robin Hood to walk back into a country that's on its knees, taken over by a king, who, like [Prime Minister] Gordon Brown, is trying to take over a country that's on its knees. I wanted to show how Robin Longstride, an archer, a bowman in the army of Richard Coeur de Lion, became Robin of the Hood, who evolved into Robin Hood," explains Scott.
"He was probably a fundamentalist, moving against Crown and oppression. Somebody must have triggered that off, and that then became a standard for others to emulate, or to be remembered."
The movie also stars Cate Blanchett doing what she does best - playing another feisty, headstrong woman - as evidenced in roles such as Elizabeth, The Missing and Notes on a Scandal. Mark Addy takes on the role of Friar Tuck, Mark Strong as the villainous Godfrey, and Kevin Durand as Little John. It also stars William Hurt as William Marshall and Max von Sydow as Sir Walter Loxley.
Scott's collaboration with Crowe hasn't always resulted in box office gold, however. Some of their efforts - which include A Good Year, American Gangster, or Body of Lies - have found an audience on the DVD racks.
"Russell is one of the few actors who constantly keeps surprising you but as a person he hasn't really changed much over the years - other than fatherhood, but he's still the same person."
Like De Niro and Scorsese and, more recently, DiCaprio and Scorsese, Scott has forged the same kind of working relationship with Crowe. "He and I are very similar in that we don't want repetition. Why wouldn't I want to work with him again?
"He's one of the best actors out there in his generation and if I can get Russell Crowe, why not?"
And in the name of realism, Scott says of Crowe's ability as an archer, "He can hit you right between the eyes, at about 40 feet," he laughs. "Russell brings a reality of manhood to the role."
Machismo aside, to make Robin Hood aesthetically authentic, Crowe had to lose some girth. Says Scott, "Yeah, he lost weight. That's what you do for a role. It's like boxing. You go and you work it out and bang, bang, bang, you lose weight. You're daft if you don't, right?"
An intrinsically English movie, Scott felt it was important to film in the geographically correct landscape.
"I could go to New Zealand and film it there but I wanted to do it in England and a bit of France. You've got the medieval stuff there."
There was some controversy when Sienna Miller was to be cast as Maid Marion that it would misfire.
Ridley says, "The idea was that it should be an older woman. I didn't want to feel as if Sienna was Russell's daughter." And Cate is such a comedienne. She's funny, really funny, and charming, and I needed the equivalent female to male. As Maid Marion, she's long passed over. She thinks she's never going to get married again."
Speaking of age, when mentioning to Scott that Crowe was the oldest Robin Hood to date, he laughs, "Wow. Don't tell Russell that. He won't like that at all."
Scott admires the ideals of Robin Hood and likens him to the United States president. "I think Obama has a touch of him. He takes over a horrible situation, an impossible situation, and barely a year later, all the idiots are saying, 'why hasn't he fixed it yet?' Obama has got that same sense of purpose, honesty, wanting to fix it, and do the right thing."
Scott feels his vision of Robin Hood is a unique and enlightening one. So, what did the previous versions get wrong? "That would be a really, really bad thing for me to say," he laughs.
"I did enjoy Sean [Connery] and Audrey's [Hepburn] version for the first 20 minutes [in 1976's Robin and Marian] but, it wore out a bit for me. In ours, we don't do the 'old couple'.
"As usual, Russell's a mother******. This is real. It's fun, it's amusing, but it's savage."
Crowe on reinventing Robin
"Robin Hood has always been in the back of my mind since I was a child. I was a big fan of the various incarnations I saw when I was growing up. There's a universal connection that everyone makes to Robin Hood, which is at the core of the story: there might be somebody out there who cares enough to redress the imbalance. There's an empowerment quality about Robin to which people respond.
"I said I'd do Robin Hood, but only if it were a fresh take. It is one of the longest-surviving stories in the English language. That requires due respect. I took the attitude that if you're going to revitalise Robin Hood, it has to be done on the basis that whatever you thought you knew about the legend was an understandable mistake. It has to be different from what has come before.
"Take Robin and Little John, for example, who don't get on when they first meet. When we first meet them, they have a disagreement. But that doesn't take place on a log over a creek with a staff fight, which has been done to death. What we've done is to redefine the times and shift the timeline."
LOWDOWN
Who: Sir Ridley Scott and Russell Crowe, regular screen team
Past films together: Gladiator, A Good Year, Body of Lies, American Gangster
Latest: Robin Hood
When and where: Opens at cinemas, May 13