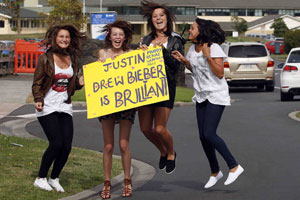 Dressed in an All Blacks jersey, Canadian teen popstar Justin Bieber has wowed hundreds of students at Auckland's Strathallan school.
The pop sensation performed six songs, including his hit Baby, for a screaming audience of students and announced he is on the look out for a Kiwi girl. Most of his young fans spent the concert with their cameras and cellphones raised in the air, capturing their idol up close.
The pop star told them it was great to be there, because he hasn't been to a regular school in a long time.
Students described the day as the best of their life.
Two former students of Strathallan School put on their old uniforms, got on a school bus, and made it into the Papakura school. It was all for nought however, as they were found hiding in one of the toilets by a teacher.
Extra security was at the school and deputy principal Robyn Drummond said no unauthorised people would be allowed in.
She said the young student who won a competition had made a lot of new friends at the school when they learned Bieber would give a concert.
Bieber later arrived at TV3's Auckland headquarters, where a group of about 30 fans were believed to have been waiting all day.
Campbell Live host John Campbell alerted people to Bieber's arrival with a message on Twitter - a shrieking sound followed by "Justin Bieber's in the building."
"There's tweenies at every door," he wrote.
The Edge FM radio station had its fun with the hysteria, sending a limo and a Bieber lookalike to TV3.
The doppelganger covered his head as a horde of sobbing girls mobbed the car. One said she had been waiting since 9.30 for Bieber to arrive.
Earlier in the day, Bieber joined members of his entourage for a bungy jumping experience at Auckland's Harbour Bridge.
In a Twitter update, he posted a video of the jump and said "I love New Zealand!"
Earlier today, Bieber tweeted: "I'm in New Zealand! They got no predators in the whole country! I am the most dangerous creature here!"
The star's hat was stolen and his mother knocked over when screaming fans welcomed him at Auckland International Airport last night.
Bieber was greeted by about 500 Kiwi fans - most of them young girls - as he came through the arrival gates.
He told fans that he wanted to sign autographs and have pictures taken but security shut the opportunity down because fans were pushing.
"The airport was crazy. Not happy that someone stole my hat and knocked down my mama. Come on people," Bieber wrote.
The Hamilton teenager who swiped the hat from off Bieber's head could face criminal action if the pop teen sensation chooses to press charges, police say.
Emah Hira Matiu,17, admitted to stealing the Canadian teen singer's hat when he arrived in the country late last night.
Today, she said she tweeted Bieber to tell him the fate of his hat and it would be given back in return for a hug.
But instead of a hug, Ms Matiu could face a theft charge if Bieber made a complaint to police, Waikato District police spokesman Andrew McAlley told NZPA.
"I don't think there has been (a complaint) yet," he said.
As the fans swarmed towards him, police and airport security staff quickly escorted him out a side door and into a waiting black SUV.
Screaming girls tried to follow, and even after the star had left the excitement stayed at fever pitch.
But on the sideline, groups of waiting parents were much more subdued, yawning as they waited for the children's big occasion to be over.
Some of the fans were at the airport four hours before Bieber arrived.
He is expected to leave New Zealand this evening.
The moves follow Bieber's weekend visit to Sydney, where his only public show was cancelled.
Australian police pulled the plug on the free public show at Sydney Harbour after dozens of young girls were trampled.
The incident happened after Bieber, who was scheduled to perform at 7.40am, was rumoured to have arrived early.
That caused a huge crowd surge at about 2am, and dozens of young fans were trampled, and some had to be treated for minor injuries by paramedics at the scene.
- ADDITIONAL REPORTING: NEWSTALK ZB