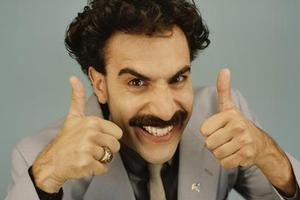 He achieved fame as the white gangster-rapper Ali G before wowing Hollywood as Kazakh TV presenter Borat and gay fashion journalist Bruno. Now Sacha Baron Cohen is preparing to unveil a fourth alter ego.
No one is entirely sure of the new character's name yet, but his job description will almost certainly involve goats.
The British comedian had the movie industry scratching its head yesterday and wondering if the recession ever really happened after selling his next big creative project to Paramount, in a deal that will reportedly see him paid at least US$20 million ($27.7 million).
If the film performs well at the box office, his eventual salary could reach US$80 million.
Exact details of the deal are officially being kept under wraps, but a loose plot-premise of the forthcoming movie was doing the rounds of Hollywood last night after it emerged that Baron Cohen and his co-writers, three of the men behind the TV sitcom Curb Your Enthusiasm, spent last week touring LA's "big six" major studios, pitching it.
Baron Cohen will apparently play dual roles, as a goat herder and a deposed foreign dictator who finds himself lost in the United States.
Instead of being in the "mocumentary" format of his previous movies, though, the as-yet-untitled film will be a traditional scripted comedy. One commentator described it as being in the spirit of the hit 1980s films Coming to America and Trading Places.
The big talking point, however, is the amount that Baron Cohen stands to be paid. He is rumoured to have signed a "20-20" deal, one of the legendary Hollywood contracts which see a major star paid $20 million up front, plus 20 per cent of gross revenues from their film, which has a budget of around $65 million.
If Paramount makes a profit, Cohen's share will rise even further, to 30 per cent. The comedian, who is also in talks over a remake of The Secret Life of Walter Mitty, has been given a guarantee of creative control over his "goat herder" project.
The deal comes when the film industry is supposed to be scaling back its gargantuan up-front payments to A-list stars. Audiences have grown tired of so-called "star vehicles" in favour of "concept" films that revolve around a big idea, such as Avatar.
Baron Cohen's 2006 hit Borat made US$261 million at the global box office, but his attempt to repeat that last year with Bruno was a relative failure making only US$138 million.
Baron Cohen's ability to sign such a big contract comes down to the old trick of good salesmanship. Four of the six studios he pitched the film to were interested in financing it, and according to the influential blog Deadline Hollywood Daily, which broke news of the deal, a bidding war broke out between Paramount and Sony.
The deadlock was broken when Paramount executive Brad Grey sent a goat, dressed in a Paramount T-shirt, to the offices of Baron Cohen's agent, WME.
According to the blog, the goat was eventually "removed after it went to the toilet in the hallway".
- INDEPENDENT