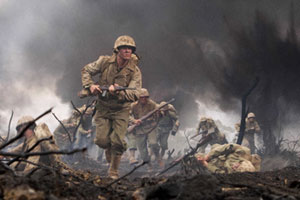 Tom Hanks and Steven Spielberg have another war story to tell. They've gone from the D-Day account of Saving Private Ryan to European campaign mini-series Band of Brothers.
But now the Hollywood top brass have headed to The Pacific in a production that might be epic in scale but is personal in focus. It's based on the real life stories of three marines (in different units) and their experiences of the horrors of war against the Japanese.
The Pacific's 10-part mini-series, is, as you would imagine, visually brutal and is often reminiscent of the devastating first 20 minutes of Saving Private Ryan's battle on the beaches of Normandy.
However, the primitive landscape and conditions the soldiers endured on the islands like Peliuli added another dimension to the terrors of war. They were not fighting in shelled European cities, but a no man's land without infrastructure. They were victim to nature's elements as well as the inhumanity of man.
Of course, the war in Europe is heavily documented and took a relatively direct route. In The Pacific there were multiple D-Days and many of the battles were fought on islands that require a magnifying glass to find on a map of the world's biggest ocean.
Looking at The Pacific, you might say that BoB's Easy Company had it relatively easy.
"I don't want to compare one war to another in terms of savagery," says Spielberg. "But there's an added level when nature and humanity conspire against the individual."
Says Hanks: "By and large, the European war in World War II was the last war of its kind. Great armies fought and decided when they began and when they did not. In Europe, an enemy soldier could throw up his hands; his war would be over," he says. "The war in the Pacific was more like the wars we've seen: wars of racism and terror, a war of absolute horrors, both on the battlefield and in civilian's regular living conditions."
They expect The Pacific to resonate with viewers when it comes to the wars America faces today.
"We want it to resonate completely. The war in the Pacific was a war of terror and racism, of suicide attacks. Both sides viewed the other side as being subhuman dogs, from a civilisation that didn't recognise the advancement of human kind.
"Sound familiar? Sound like something that might be going on?" he asks, referring to the US-Middle Eastern conflict.
He notes that Americans who once bitterly dismissed the Japanese as barbaric now accept them as friends and equals.
"Right now we're facing a different part of the world where they view us and we view them as an aberration of humanity," Hanks says. "There's a possibility that somewhere down the line, 60 years from now, we can look at the people who are trying to kill us and we are killing now as we do the Japanese today."
Made for an unprecedented US$200 million, the most extravagant budget for a TV production, it was shot in Australia, largely in and around Port Douglas, and rural Victoria. Different directors were used and a team of writers, led by Bruce McKenna (one of the main scribes on Band of Brothers). Hugh Ambrose - the son of the late Stephen Ambrose who wrote Band of Brothers - was hired as a war history consultant and he has also written the series' companion volume which follows not only the Marines but two naval aviators,
McKenna read more than 50 books about the war in the Pacific and concentrated on three marines, who give this mini-series its heart and soul.
It's based on two memoirs: With the Old Breed: At Peleliu and Okinawa by Eugene Sledge, and Helmet for My Pillow, by Robert Leckie. "The story of John Basilone was more or less taken from public record," adds Hanks.
The group of actors, relatively unknown, had to relocate from New York to Australia for about 12 months and underwent the usual "boot camp" style training, in order for them to resemble authentic soldiers of that time.
Joseph Mazzello plays Corporal Eugene "sledgehammer" Sledge, Jon Seda is gunnery Sergeant John Basilone, and James Badge Dale is Private First Class Robert Leckie.
Mazzello, (who played one of the kids in 1993's Jurassic Park) says of his role as Sledge, "My grandfather served in the Pacific so I had some context and I was interested in the subject. But Peleliu was one of the major battles of the mini-series and I'd never heard of it which is why it's important we're spending three episodes on it."
He talks a little about the boot camp process. "It was probably the worst 12 consecutive days of my life. I thought we were going to get built up, but those guys were all emaciated so they wanted to really strip us down. I was skin and bone when I left there."
This of course helped him to immerse into the character. "Yes, it was invaluable. I had never even fired a rifle so it was a huge learning experience. But it doesn't teach you how it feels to have to kill somebody or to worry about being killed. We had to figure that out."
Mazzello met some of Sledge's family. "Sledge died in 2001 and I watched interviews and got to speak to his two sons and wife. I felt like I was talking to him and that made it easy for me to see him as a human being."
James Badge Dale, who has appeared in episodes of 24 and landed a role in The Departed, says of his role as Robert Leckie, "the hardest part was the pressure of playing a man who was actually there. A real human being, a man whose words came from his own experience and unfortunately, he was not there to tell me what he thought of it, or to give his blessing. But his wife, Vera, said, 'Yes. You would make a good Robert Leckie."' Clearly, this role resonated with him and he felt the weight of Leckie and his Company's tragedy. "Real men had been there and had gone through these horrible situations. Dealing with those ghosts every day was hard." He pauses. "It was a life-changing experience for me. This story is about price and that price is universal. Anybody who has been in combat would know -and I'm just an actor in a war piece - but they know what it takes from your soul, what it takes from your mind, and from your limbs."
The most physically demanding role belongs to that of John Seda, who portrays John Basilone. "The toughest part was the mental challenge. It was very emotional and at times I had to walk away from the scene because I was crying like a baby thinking about what they actually went through. We're not making this up. We're re-enacting what took place and the things they endured.
"This guy wasn't Rambo. I've seen pictures of him and he did run barefoot through the jungle with muscles out to here, and that's obviously not me," he says, self-deprecatingly. "He was a strong family man and he was going to do whatever it took to help win this war. It teaches you that every now and then, certain people rise up and do what others might not do."
As well as Saving Private Ryan and Band of Brothers, Spielberg's past World War II tours of duty have included the Oscar winning Schindler's List and being a producer of Clint Eastwood's Pacific war double Flags of Our Fathers and Letters from Iwo Jima. And early in his career he directed the John Belushi comedy turkey 1941 which had Californians spooked by a imminent Japanese invasion in the days after Pearl Harbor. It begs the question, why the fascination with this particular war?
'It just so happens that we've examined this great, great canvas of WWII. This great, great, rich period of our history time and again, but we do it, I think, because we keep seeing ourselves and the current human condition reflected back in us from those stories."
Hanks: "I don't look at WWII, or any war story and see it as a specific, finite, or open and closed story. It is constantly fascinating in regards to the examination of any aspect of the human condition. You see the best of humankind in war; you see the worst. You see the perquisites of fate and serendipity at the same time you see the great genius behind long-term planning and masterminding. You see great moments of faith, and you see great moments of despair."
Lowdown
What: The Pacific, the HBO series which follows Band of Brothers in America's other main theatre of war in WWII
Where: TV One
When: Ten parts start from Monday April 12, 8.30pm