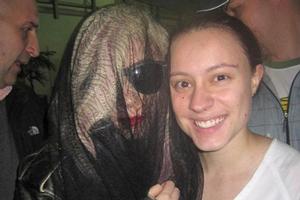 Lady Gaga fan Samantha Bellingham was up at 5am yesterday to meet her idol at Auckland Airport.
The 18-year-old student and two of her friends waited with 30 other fans from 6am for a glimpse of the star.
Lady Gaga calls her fans "little monsters" and this one travelled all the way to China just to see her perform.
Ms Bellingham said she loved Lady Gaga's music, but was also in awe of her confidence and style.
"Everyone has a little bit of Lady Gaga in them," she said.
Lady Gaga has brought her full Monster Ball tour to New Zealand for her shows tonight and tomorrow at Vector Arena.
Early-rising fans who made it to the airport were rewarded as the 23-year-old posed for photographs and signed autographs.
Lady Gaga - whose real name is Stefani Germanotta - is a Grammy Award-winning artist, best known for her number 1 singles Just Dance, Poker Face and Bad Romance as well as her over-the-top style.
---
Have you spotted Lady Gaga in Auckland?
Send us your photos
---