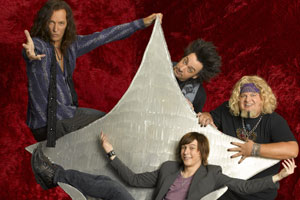 There's some boyish energy coming to the Disney Channel this week. It involves guitar strings, amps and frightfully dated hairstyles.
The newest music-with-comedy show I'm In The Band was created by Michael Kaplan (Frasier) and Ron Rappaport (Date My Mom) and is executive-produced by Kaplan and Richard Gurman (Married with Children).
It launches young actor Logan Miller (who previously starred in Ghosts of a Girlfriend's Past) and gives Steve Valentine (Crossing Jordan) - who is a trained magician as well as an actor - a chance to be wild on children's television.
Miller plays a ballsy 15-year-old called Tripp Campbell who has the Hendrix-esque guitar skills and the determination to front a rock band - he just needs the bandmates.
His dreams come true when he wins a radio contest to have dinner with his favourite band, Iron Weasel. Much to his mother's horror they eat everything but the plastic fruit on the table - she removes it just in time.
The rambunctious trio of middle-aged stooges is made up of cocky, over-tanned lead singer Derek Jupiter (Valentine), a bassist called Burger Pitt and the lovable but simple-minded drummer, Ash.
But as Tripp is to find out, despite dressing and acting like rockstars, the band have resorted to free radio appearances in exchange for a feed. No one will give them a gig.
Tripp thinks he has what it takes to make them idols again - all he needs to do is to convince them to let him play for them.
While he wows them by shredding his guitar till it sings, Iron Weasel say they don't want a fresh-faced youngster to tarnish their image. But, tired of living in their cramped van, they decide to give him a go when he offers the guest room at his mum's house.
Tripp does his best to resurrect the fame of Iron Weasel, but finds they always seem to dig themselves into uncomfortable situations - their nationwide concert tour ends up being a three-venue gig, and a silly viral video intended to make them popular again backfires when protesters start boycotting their music. But regardless of their mishaps, Tripp and his new bandmates always find that rock 'n' roll makes it better.
Miller says landing the role of Tripp was a a dream fusion of two passions - guitar and acting: "I've been playing for eight years now, so it's great being able to mix my two loves."
He thinks the show is well-timed, as kids love rock more than ever now that Rockstar and Guitar Hero have brought bands to their living rooms.
"There's a part of everyone that want to be a rock star," he says.
Valentine says he was always more into DJing but has always known a lot of people in bands, and drew on them for inspiration when playing Derek.
He also researched old stooges by getting among them. "I went to a party not long ago. It was literally full of people like Iron Weasel - people in their 50s and 60s."
The show's appeal lies in its hilarious scenarios and great music, Miller says."It can rock at the same time as being funny"
Valentine describes the music as "everything from the 80s mashed up together in a rock 'n' roll band". His favourite song? Face Down In A Plate of Nachos. Yeah, he thinks an Iron Weasel album will take off.
But more than the Dumb and Dumber personalities, the crazy songs and the 80s metal throwbacks, Valentine thinks the show will give kids more reason to love rock 'n' roll.
"I think it encourages people to go after their dreams," he says.
LOWDOWN
What: I'm In The Band - a new teen comedy show on the Disney Channel with a musical twist
Where and When: Disney channel, Friday 6PM
Starring: Logan Miller and Steve Valentine