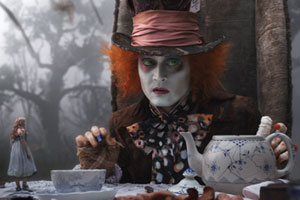 Whenever Tim Burton and Johnny Depp collaborate on a film it's usually a surreal, visual feast. Their latest adventure, an extravagant reinterpretation of Lewis Carroll's Alice in Wonderland, is no exception.
Right from the outset with his debut movie, Pee-wee's Big Adventure, it was evident that Tim Burton was a visionary. He cemented his reputation as a maverick with his follow-up instalment, Beetlejuice, a supernatural comedy horror that married his macabre sense of humour to a bewitching, gothic sensibility.
But Burton's talent wasn't fully realised until he met Johnny Depp and cast him as the dysfunctional lead character in Edward Scissorhands. It was an inspired move, unleashing a razor-sharp performance from Depp, which proved the perfect foil for Burton's twisted genius.
"Tim fought really hard with the studio to convince them to take me on, because at the time I was box-office poison," recalls Depp, laughing ruefully.
"I still think it's a miracle he cast me - and that they agreed - but I'm eternally grateful, because that was the start of this great journey we've been on together."
It's a journey that's lasted 20 years, with Burton and Depp's perennial reunions spawning some of the most brilliant, beguiling and bizarre films ever, like Sleepy Hollow, Corpse Bride and Ed Wood. Their latest offering is no different. It's a typically Burton-esque adaptation of Alice in Wonderland which, as you'd expect, subverts any preconceptions of Carroll's classic fairytale, transforming "Wonderland" into "Underland" - a mythical, magical world set beneath an everyday, ordinary one.
"There have been over 20 versions of Alice in Wonderland, but I've never really connected with any of them - probably because they've all tried to be too literal to the story," suggests Burton, outlining his rationale for another remake of such a beloved work.
"I was excited by the prospect of doing my own version, one that actually had a heart and a compelling story.
"That's why we set it in a different context and made Alice older - she's 19 - so she's at that awkward stage where she's neither a teenager, nor a woman and doesn't feel comfortable in her own skin," he adds. "By doing that, it gives her this sadness and vulnerability.
"Also, the thing that really intrigued me with this project was the opportunity to do a 3D Alice in Wonderland, because it seemed the proper mixture of the medium and the material," Burton enthuses.
"The trippiness of that world, in 3D, was a really exciting prospect."
The reality is just as exciting - and surreal, especially in 3D - with Burton's fanciful vision of Underland transformed into a maze for Alice, played by up-and-coming Australian actress Mia Wasikowska, to navigate herself through.
Her goal is simple: fulfil her destiny by slaying the Jabberwocky, thereby liberating Underland from the tyrannical Red Queen, brilliantly executed by Helena Bonham-Carter, and restoring power to Anne Hathaway's noble White Queen.
On that fateful journey, Alice encounters all the usual suspects - Dormouse, the March Hare, Cheshire Cat and Tweedle Dee and Tweedle Dum, portrayed by Little Britain's Matt Lucas. She also stumbles upon the Mad Hatter, deftly - and daftly - played by Depp.
"I didn't want the Mad Hatter to be completely mad, but just to have a degree of madness because of some damage or trauma. So, I did some research on hatters and found that they suffered from this disease, due to the toxic substance they used to glue the hats together. It was full of mercury, which basically poisoned them," explains Depp.
"That poison manifested itself as Tourette's Syndrome or madder and weirder personalities. I thought I'd use that, which is why one minute he's full of rage, the next he's in a horrific tailspin of fear, followed by great heights of levity."
It's the type of careful, considered preparation that Depp is renowned for bringing to his roles. It's also a level of commitment that Burton applauds.
"Johnny always surprises me. That's why I like working with him," smiles Burton.
"We don't work together just because we know each other. It's very important for both of us to keep an artistic edge going, to challenge ourselves, do the best we can and impress each other."
It's that edginess and unpredictability that enthralled Hathaway during filming, because it's the first time she'd encountered it, or worked with Burton, Depp and Bonham-Carter.
"Tim marches to his own beat and he doesn't hear - or worry - about anyone else's. I think that's something that he, Johnny and Helena have in common," she surmises. "They're just living their own lives, as themselves, and they really don't care what people think.
"I find that so liberating," she adds, grinning. "I really just think they're the coolest people on the planet. It's almost as if they're rock stars in their own little band, which is why I was thrilled that they asked me to join in on their record and sing back-up.
"You know, it's funny, because people always talk about how odd Tim is - how left-of-centre he is - but clearly people like that about him, or else their centre is aligned with his, because he's been so successful working within his own world and his own aesthetic."
Proof of that is Alice in Wonderland, which is another inspired visual feast, even though it's not as dark or macabre as you'd perhaps expect - especially given Burton's predilection for inhabiting that otherworldly chasm between fantasy and reality.
"When I agreed to do this movie I said to the studio, 'I'm not going to go darker, or go weirder' because the material's already dark and weird enough as it is," explains Burton. "It's some of the most subversive material out there - even today. So, it really didn't need an extra layer of darkness from me and I wasn't about to add it - just because people might expect it."
It's that kind of determination and dedication that still sets Burton apart from most directors. It's also an attribute that inspires loyalty and reverence among the actors he works with, none more so than his leading man, Depp.
"I've always admired Tim for his commitment, his vision, his unwillingness to compromise and his determination to do exactly what he wants, how he wants and in his own unique way," concludes Depp, acknowledging his friend's unswerving passion.
"As far as I'm concerned, he's an auteur, and one of the few, true artists working in cinema today."
Depp should know, having collaborated with Burton on so many extraordinary films already.
The only question remaining is: can they keep it up? With Dark Shadows already in the pipeline, a film Burton describes as "a gothic, supernatural soap opera", it won't be long before we find out.
LOWDOWN
Who: Johnny Depp and Tim Burton, film-making mates
Previous films together: Edward Sissorhands (1990), Ed Wood (1994), Sleepy Hollow (1999), Charlie and the Chocolate Factory (2005), Corpse Bride (2005), Sweeney Todd: The Demon Barber of Fleet Street (2007)
Latest: Alice in Wonderland opens today.