Rating: * *
Verdict: Fun full-on action. Shame about the lousy story.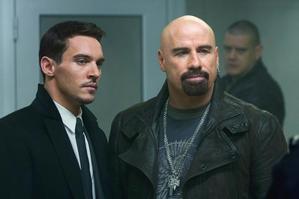 Travolta gets to do what Travolta does best in this action thriller from the team who brought us Taken, writer Luc Besson and director Pierre Morel.
While the premise is based around the CIA trying to stop a terrorist attack in France, what really drives From Paris With Love is the character Charlie Wax (John Travolta), the Firm's top special agent. Special Agent he may be, but he is also a trigger happy, unorthodox cowboy who looks more like a cross between an old biker and Hulk Hogan than an inconspicuous spy.
His partner is the more appropriately attired James Reese (Jonathan Rhys-Meyers) who works as the personal aid to the American ambassador in Paris. A low-level operative for the CIA, he's keen to prove he can do more than change licence plates and plant the occasional bug. He gets his chance when Charlie Wax, complete with tragic looking goatee and shaved head, comes into his life and he's promoted to a high level operative. Wax's shoot-em up approach is a little more than Reese was prepared for.
The intelligent, multilingual, chess-playing Reese decides maybe a quiet life at home with his beautiful French fiancee (Kasia Smutniak ) wouldn't be such a bad thing, but that would be the end of the "Buddy" aspect to this film.
On paper, it's hard to imagine Travolta and Rhys Meyers together, but on screen they have a nice thing going, and you can perhaps even imagine the sequel. Travolta might get all the good lines, but Rhys Meyers is determined to add some emotional depth to his character and the story, which is much appreciated but relatively pointless. This is Travolta's film, and he takes on the role of the unconventional action hero with the snappy on-liners well, even if the story itself is implausible and weak.
But then this isn't suppose to be a serious, intelligent political thriller, but more a fun, action-packed piece of entertainment with plenty of gun fire, car chases, a pretty girl and some memorable lines. That's about all you're going to get.
Cast: John Travolta, Jonathan Rhys Meyers
Director: Pierre Morel
Running Time: 95 mins
Rating: R16 (Violence & Offensive Language)