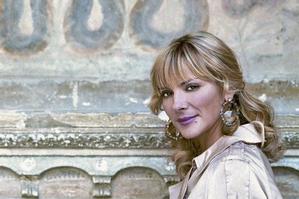 Sex and the City actress Kim Cattrall tells Alice Jones her family secrets.
So, where does Samantha Jones end and Kim Cattrall start? Has the 53-year-old actress ever felt herself blurring into the vivacious, voracious character she has played, on and off, for more than a decade?
"No. Never. It's such a clear definition," she shakes her head. "Totally clear. It ends when they say 'cut!"' Really?
To the casual observer, there have been plenty of times since Sex and the City exploded all over our screens in 1998 when it has been tricky to draw a line between the actress and the fictional Manhattan man-eater.
As Samantha sauce-potted her way around New York, bedding toy-boy models and millionaire executives, dispensing x-rated advice over brunch and, as a naked human sushi platter in one of the movie's funniest scenes, "getting wasabi in places you should never get wasabi", Cattrall was busily racking up her own headlines.
There were her three marriages, the book, Satisfaction: The Art of the Female Orgasm, she wrote with her third, now ex, husband Mark Levinson and her latest, now defunct, relationship with Alan Wyse, a chef 20 years her junior.
Then there are other appearances which deliberately play on her glamazon/siren image: the Nissan advert banned in New Zealand for being too risque ("I've just had the ride of my life ..."); a television documentary, Sexual Intelligence, which saw her dancing with glee on the 8m phallus of the Cerne Abbas giant; her semi-naked publicity campaign to save Diana and Actaeon for the nation (cue "Nice Titians, Kim" headlines); and, my favourite, her guest spot on Sesame Street where she proclaimed the "word on the street" to be - what else? - "fabulous".
So Samantha, darling. There's a hint of Samantha, too, about her upcoming film roles - as the formidable PA (and mistress) to the prime minister in the Robert Harris thriller The Ghost and as a fading glamour girl in Meet Monica Velour.
But Sex and the City's most out-there character, it seems, prefers to blend in. She politely refuses when fans ask to take her photograph - "I just sort of need time off" - and takes her privacy very seriously. Even her stint on the BBC's Who Do You Think You Are?, which screens here on Monday night and encourages celebrities to dig around for skeletons in the family closet, is a masterclass in revealing a little, while concealing a whole lot more.
We learn plenty about the (admittedly explosive) story of her bigamist grandfather but not a jot about day-to-day life chez Cattrall. The thing is, Cattrall is a consummate professional. You won't catch her knocking fame or the paparazzi. It's all part of the job and for Cattrall, acting is just that. The endless reports of bitching on the Sex and the City set? "A terrific waste of time. You've got eight pages of dialogue - get on with it.
We all really, really like each other, so if we don't see each other for a while, it's okay. It's sort of like a family. I don't speak to my brother every week and that doesn't mean I don't love him."
Cattrall's pragmatism is born of being on movie sets since she was a teenager. She was just 17 when she was picked out by Otto Preminger for a contract which was bought up a year later by Universal.
Her first film was Rosebud, in 1975. She took the role because the shoot was in France and she was broke. "I was far too young. It was horrific.He [Preminger] was a horrible ogre. He thought enough of my talent to put me under contract and take a percentage of what I was going to make for the next seven years of my life," she laughs bitterly.
"But that's a kind of double-edged sword. It didn't hurt but at the same time it wasn't the most nurturing, wonderful introduction to the professional world of film."
More than two decades as a jobbing actress, waitressing and babysitting between roles have moulded her into today's savvy operator. When a Sex and the City movie was first slated, it was, apparently, Cattrall who held things up with her salary demands.
"The offer for the film just wasn't acceptable. I felt we should all make lots of money, not just one of us," she says, referring to co-star Sarah Jessica Parker's reported US$3 million ($4.3 million) per episode.
It worked: Cattrall wound up with US$6 million - triple that of co-stars Cynthia Nixon and Kristin Davis but still US$9 million less than SJP.
Cattrall is British Canadian, born in Liverpool. Her family emigrated to Vancouver when she was a baby.
Who Do You Think You Are? reveals the tale of her "sonofabitch" grandfather who abandoned his family (including Cattrall's mother) to a life of poverty in Toxteth, stowing away to America before coming back and starting a new family - without divorcing his first wife.
Is she glad she did the show? "If I had known, going in, what it was going to be like, I don't know if I would have done it. It was quite an upheaval. I was angry for my mum. Rightfully so."
Cattrall has always been fairly self- sufficient. She set her heart on acting at 12, and left her family to train at the London Academy of Music and Dramatic Art (Lamda) before heading to Hollywood.
It was Sex and the City, though, which changed her life - at the age of 42. "If it hadn't come along, I think I'd be all right too. I'd have a really good, strong, journeyman actress career. That would have been fine." She wasn't convinced at first.
Reading the pilot script, she saw only a "miserable" single woman, a group of people she "didn't care" about and a "depressing" picture of male-female relations.
"When you sign a contract to do a series, you're effectively signing away six, possibly seven, years of your life based on 30 pages of dialogue. That's a little scary."
Once she'd taken the plunge, she knew immediately that the chemistry was right, though it wasn't until the third series that the show really took off.
Samantha's maturity, good heart and brazen exploits - in many episodes it was down to her to put the sex into the city - made her a favourite with fans and at the watercooler.
Ironically, for the show which claimed that women could have it all, Cattrall has sacrificed a marriage and a relationship to it.
"The most difficult thing about my job is that I do a lot of 19-hour days. It's really difficult to have a life, never mind a relationship. I don't have any regrets, really. I'm quite content. I'm very persistent. I just keep working."
* Kim Cattrall stars in Who Do You Think You Are? on Prime, tonight at 7.30pm.
- INDEPENDENT