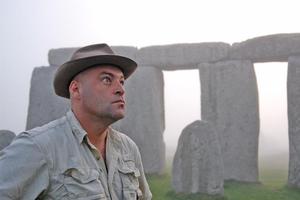 Item 1: The Apprentice NZ (Tuesday, TV2). It didn't seem fair that the boys' team, known as No 8, won the first round - a lunchtime barbecue challenge - because they consistently blundered by not thinking ahead, typical males.
They set up on the wrong spot, then had to move the barbecue. They hadn't bought any food in advance, so the mandatory council health inspection was delayed.
Then the guys transporting the food got stuck in traffic (don't they know this is Auckland?) so they lost half an hour of trading. Nevertheless, they made $711.
Meanwhile, in Freyberg Pl, the girls' team - Athena, a name big boss Terry Serepisos likes because it stands for the Greek goddess of war - had gone downmarket in an upmarket site by offering plain pork bangers, fried onions and tomato sauce wrapped in white bread.
Wannabe apprentice Meena shrieked manically at passersby and team leader Kim quickly lost control of her troops, who were flapping like panicky pigeons.
They made $511.50.
The rifts in the girls' team quickly became apparent in the post-sizzle boardroom showdown and the formidable Mr S took Kim to task.
If these guys can't manage something as basic as a sausage sizzle, or "upsell" the product, as one of the guys said in management-speak rubbish, they are going to be in trouble.
Which is exactly the point of The Apprentice. The series is going to be an interesting upsell - but only if some personality starts to emerge.
Item 2: Leigh Hart's Mysterious Planet (TV One, Friday). You're Fired. I assume Leigh Hart can be quite amusing but there were so many things wrong with the first episode.
The mystery is how this series came into being, let alone be scheduled on TV One.
Hart briefly dropped into Stonehenge, didn't like it, so spent the rest of the tedious hour lurking around the backwoods of Ohio pretending to search for Bigfoot. Abetted by a ridiculous drawled voiceover, crashing background music and shots of obese Americans, Hart spouted cliched nonsense and interviewed boring people. It had no momentum whatsoever and was one of the most pointless hours of television I've ever had to sit through.
Item 3: Close Up. Look, I rarely watch Close Up these days because host Mark Sainsbury's fluffs have become embarrassing/annoying. Others have pointed out that he invariably starts just about every sentence with the words look/well/listen/now, sometimes all in one sentence. It's a verbal tic.
Just as bad, his links between stories have become formulaic: "later in the programme we have blah blah, BUT FIRST, we have ...", as if apologising in advance for the feebleness of the next item - as well he may often be doing.
Last week, when Sainsbury was trying to introduce the story on Wanganui boy Bronson and his dog Buck, he simply lost the plot. "The lengths went to, the lengths went to get," he spluttered.
Look. This is just not good enough for someone who is presumably being paid quite a lot for his services.
Mr Serepisos would have two words to say about this ongoing, squirm-making performance.