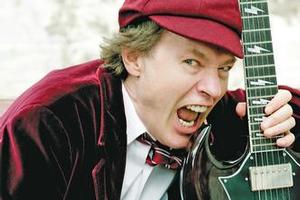 Angus Young talks about his faithful Gibson SG guitar like it's his best mate.
"Me and the SG go way back. I think it was the little horns, you know, the little devil horns," he cackles, referring to the sharp cutaways that give the guitar its distinctive shape.
AC/DC's lead axeman and the band's most recognisable face bought his first SG from a music shop just down the road from the family home in Sydney in 1970, when he was 16.
"I've still got it and that's still my favourite guitar of them all."
Three years later, Angus and his older brother Malcolm, who was also a guitarist, formed AC/DC. Since then the Youngs' powerful dual guitar sound has sustained AC/DC as one of the biggest bands on the planet - and one of the most influential heavy rock acts of all time.
In the band's four-decade career, as well as being a constant live force, they've sold more than 200 million albums, and 1980's Back In Black has sold more than 45 million copies, making it the second-biggest-selling album of all time behind Michael Jackson's Thriller.
It's Angus' playing that characterises AC/DC's bludgeoning yet catchy sound best - and it's a simple and straightforward style that's steeped in blues-based rock 'n' roll. It's his energy and the unbridled way he plays - complete with leaps, bounds, spasms, and the famous duck walk - that makes him exciting to watch and listen to.
"When I first used to play it was just a barrage of notes," he laughs.
"My elder brother George [who produced many of the band's classic albums, including 1975 debut High Voltage] used to always say, 'no, don't do that now. Stop.' He'd keep me cool and calm until it was time for the guitar solo. Then he'd say, 'now'.
"I'd just come up with something that fitted the mood of the song. A lot of the time I'd be thinking of something very complex but usually, the best thing was the thing that was simple, because it cut right through. So I always thought that was the best approach."
There's nothing fancy and frilly about the brazen stomp of early hits TNT and Dirty Deeds Done Dirt Cheap, and the delicious da da-da-da plod of Back In Black is pure simplicity and arguably the greatest rock 'n' roll riff ever written.
For a little man - Angus is only 157cm - he commands the stage with ease. He's a 15-year-old boy in a 54-year-old's body; he still wears his trademark school uniform on stage; and, as is customary, he still likes to do his striptease act and moon the crowd (thankfully not with a bare bum these days).
To talk to he's polite, funny and reserved. He has an almost-posh lilt, but also a little of that gruff Aussie bloke to him.
Though it's Angus you notice most, Malcolm is a steely and stoic force on rhythm guitar and together the brothers drive AC/DC - both in a musical and business sense.
For the most part, Malcolm is the business mind and Angus the entertainer and figurehead.
"What are you saying? That I'm the monkey and he's the brains?" Angus jokes. He's reticent about getting into the business side of the AC/DC brand and quickly turns it back to music.
"In the beginning me and Malcolm used to swap roles. But he always said that he thought I did that better. But the two of us combine to sound like one big guitar."
And along with the rest of the band, made up of Cliff Williams (bass); Phil Rudd (drums); and Brian Johnson (vocals), they are a tight and slick unit.
"The hard rhythm is how he plays and between him, Phil and Cliff, they hold down that back line rhythm, and it allows Brian and I to be the colour."
The band have had their ups and downs over the years. The relationship between Malcolm Young and New Zealand-based Rudd broke down so badly in 1983 that he was fired, only to rejoin the band in 1994.
There have been typical rock 'n' roll addiction problems (although Angus has always been teetotal), and while they have always been a constant live force, albums like 1985's Fly On the Wall and 1988's Blow Up Your Video were disappointing. There have also been dark times when AC/DC nearly called it quits, most famously when party-hard singer Bon Scott died in 1980 following a night of excess.
"The worst time was the death of Bon because we didn't know whether we should continue," says Angus. But with the blessing of Scott's family the Youngs got the band up and running quickly, with new singer Johnson.
"Bon's father grabbed me and Malcolm and said, 'listen, you guys are young guys, so you've got to keep going'. So that took a bit of pressure off us in a way because at the time we felt we didn't know which way it was going to go, because you might be seen as grave-robbing or something."
It turns out the two singers knew each other and Angus remembers Scott telling the rest of the band about seeing Johnson live. "He said it was the wildest thing he'd ever seen."
The current line-up has been solid since Rudd rejoined in 1994 - and the band are bigger than ever following the release of Black Ice, their 15th and best album since 1981's For Those About To Rock We Salute You.
The Black Ice Tour, which started in the US in October 2008, has sold out around the world. When tickets went on sale in Australia mid-last year, box office records were broken with 520,000 tickets for the 11 sold-out shows purchased in three hours.
In New Zealand they played two dates at Wellington's 35,000 capacity Westpac Stadium last week (the first of which sold out), and they are at Western Springs tonight with more than 60,000 expected.
"It's one of our biggest tours in a long, long time because of a new generation coming through," says Angus.
"There are more younger people coming along who have never seen us before, then others who are bringing their children, and even some of them had never seen us before, but their kids dragged them along."
Yet, despite the band's widespread popularity, they are often shunned and still written off as a bozo pub rock band who somehow became a stadium act.
"It's probably because music is lumped into being an art form, and when people mention the word 'art' you get the kind of culture thing coming through. I suppose you've got the highbrow set and the lowbrow set.
"To me it's like a painting. If I look at a Vincent Van Gogh painting, some people see a statement, but I never saw a statement and that's probably where we differ I suppose. We've had flak, but even from the beginning people dismissed us as a bar band."
Not that Angus gives a hoot because these days this Sydney pub rock band is one of only a few true stadium acts left in the world.
"Hey," he chuckles huskily, "I can't complain."

AC/DC timeline
1973
* Formed in November by Angus and Malcolm Young in Sydney, with first singer Dave Evans
* Play first gig on New Year's Eve at Chequers in Sydney
1974
* Angus starts wearing his school uniform, an idea suggested by his sister Margaret.
* Evans let go and in September singer Bon Scott joins
1975
* Record Australia-only album High Voltage
* Release single, It's A Long Way To The Top (If You Wanna Rock 'n' Roll)
* Second album, TNT, released in Australia and New Zealand
1976
* Sign to Atlantic Records and tour with Black Sabbath, Kiss and Aerosmith
* Release High Voltage internationally, which was a compilation of tracks from High Voltage and TNT
* Dirty Deeds Done Dirt Cheap released September
1977
* Let There Be Rock released March
* Bass player Mark Evans fired due to personal differences and replaced by Cliff Williams
1978
* Powerage released May
1979
* Breakthrough into America with Highway To Hell, produced by Robert "Mutt" Lange (formerly Mr Shania Twain)
1980
* February 19, Bon Scott dies after choking on his own vomit following a night out partying
* Replaced by Brian Johnson who helps finish songs started by the band for Back In Black
* Record Back In Black in April and May at Compass Point Studios, the Bahamas, and Electric Lady, New York, with Mutt Lange. Released in July it becomes second biggest selling album of all time 1981
* For Those About To Rock We Salute You released November
1983
* Flick of the Switch, self-produced by the band after splitting with Lange, released August
* Drummer Phil is Rudd fired after fighting with Malcolm Young. He moves to Tauranga where he is still based today. Replaced by Simon Wright
1985
* Fly On the Wall released June
1988
* Blow Up Your Video was produced by Harry Vanda and George Young (the Youngs' older brother), who had recorded the band's early albums. Released in January.
* In April Malcolm Young takes time off from touring to recovery from alcohol addiction and is temporarily replaced by his brother Stevie
1990
* Popularity reignited by single Thunderstruck off Razor's Edge.
1994
* Rudd rehired after the Youngs invite him to a series of jam sessions
1995
* Ballbreaker produced by mega-producer Rick Rubin (Beastie Boys, Slayer, Red Hot Chilli Peppers)
1996
* The world tour for Ballbreaker comes to New Zealand
2000
* Stiff Upper Lip released February
2008
* The band make their video game debut with Let There Be Rock on Rock Band 2. They release their 15th studio album, Black Ice, in October and start 18-month world tour in the United States.

Lowdown
Who: Angus Young, lead guitarist in AC/DC
Where & when: Western Springs, Auckland, tonight
Essential albums: TNT (1975), Dirty Deeds Done Dirt Cheap (1976), Highway To Hell (1979), Back In Black (1980), For Those About To Rock We Salute You (1981); Stiff Upper Lip (2000); Black Ice (2008)