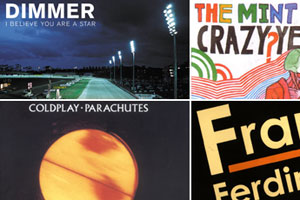 A round-up of some of the best albums of the last decade, as chosen by the Herald's Timeout staff. Read on for Timeout reviewers' takes on the albums at the time they came out.
2000
Coldplay, Parachutes
(Parlophone)
Oh good, another one. Another British band with a delicate singer whose voice goes all the way up there while guitars, bass and drums do thoughtful things beneath him. How many more Radioheads or Travises do we really need? Don't we have enough sadsacks in rock already?
Well, one might have had cause to ponder those questions if the debut by Coldplay - a band with delicate singing by Chris Martin and thoughtful playing care of guitarist Guy Berryman - wasn't up to scratch. But it is. Really quite scarily so.
Yes, they are staking out some sort of moody middleground between Radiohead's cosmic confusion and Travis' sad-hearted sweetness.
But there's also hints of the Verve, Jeff Buckley (if he had written gripping pop tunes with simple, poignant sentiments, the likes of Shiver and High Speed might have resulted) and Nick Drake (on the acoustic-framed Sparks, the song-sketch of a title track, and the wee-small-hours ballad We Never Change).
They also have an ability to crank up a glorious mix of slow-surging guitars and sparkling tunes, at best on Yellow; Trouble swings from its pensive piano opening to its Pink Floyd-like haze of a chorus; and there's a doubly uplifting ending to all that melancholy care of final song Everthing's Not Lost, which builds from its jazzy piano beginning to an exercise in banner-waving optimism, then a folky hidden track which gives Parachutes' crisp vinyl-length 41 minutes 50 seconds an afterglow you could toast marshmallows on.
All that makes for an album that sounds more affecting and enchanting each time through and an easy candidate for the "best of the year" list. Yes, as that fellow on the wireless says far too often, truly marvellous.
- Russell Baillie
2001
DIMMER, I Believe You Are A Star
(Columbia)
Great albums have a way of revealing themselves in their own good time. I'm not sure if I've quite got to the bottom of Dimmer's long-awaited debut after listening to it since its arrival more times than is probably healthy - but it is a great album. A keeper which will be returned to again and again. And it's one to which all other New Zealand albums in 2001 will be compared and possibly found wanting.
It's also proof that while Shayne Carter will forever - well, here at least - be tied to old outfit the Straitjacket Fits, his is a talent that isn't tied to that band's brief time in the sun.
If this might be considered his solo debut (the drumming of Gary Sullivan is a big factor in its hazy-but-groovy feel), then it sounds as if Carter is quite comfortable going it alone, with a set of songs that are direct, intimate and vaguely conspiratorial in mood. Musically, he's also coming at it from a far different angle to the wiry rock of his previous bands.
The starting point to this might be brooding SJF songs like If I Were You - now subtract the rock bits and add cliche-free electronics. The remarkable thing about I Believe You Are A Star is how much power it harnesses while barely breaking into a sweat.
Certainly, it throbs dangerously on the likes of See, a slow-fused track which gradually builds up the layers of distortion.
Likewise, the title track with its low-slung bass could well have been an SJF song - if they had ended their days as the house band in the sort of neon-lit strip joint you probably only ever see in the movies.
But this mostly stays in the shadows and Carter's once gripping rock sneer has been replaced by a voice swinging between falsetto and near-whispering bittersweet nothings. The ways he drops lines such as "I'm not your friend I'm a stone cold traitor" on the opening track, Drop You Off, is but one of many dark thrills on offer from the vocals here.
Elsewhere, early single Evolution sits neatly as a tuneful bit of noir-soul among the 13 tracks.
The likes of All The Way to Her offer a line in shadowy funk, there's a couple of catch-your-breath instrumentals in Drift, Powercord (DIY techno of mad submarine noises, clipped guitar, crazy brass and one swinging beat) and the closing Sad Guy (a guitar, drum and bass drone'n'rumble which provides a neatly atmospheric coda).
Among the plain old songs there's something warped and quite lovely in both Pendulum (all slide guitars and electronics at a frequency which should have the neighbourhood canines howling along) and Under the Light (which suggests a collision of vintage early Eno and electrosoul).
It's quite a leap - and Carter has been a long time up in the air - but it's one very happy landing. It sounds as if finally a man who's been in a great New Zealand band or two has concentrated on making a great album.
It's worked a treat. I Believe You are A Star is a dark wonder.
- Russell Baillie
2002
Flaming Lips, Yoshimi Battles the Pink Robots
(Warner Bros)
When the raves went up for the Flaming Lips' last one, The Soft Bulletin, some of us stood back and scratched our heads.
However, we're quite prepared to join any club dedicated to espousing the many and strange virtues of this, the veteran Oklahoma band's follow-up.
Like its predecessor, and as suggested by its title, Yoshimi ... is an ambitious affair. Apparently, it's not a concept album but its sci-fi themes and its production suggests its own dreamy world.
Its nifty tunes - as delivered by frontman's Wayne Coyne's Neil Young-like, helium-powered voice on what are a run of lovely, strangely affecting songs, which ponder big questions (like "Do you realise that everyone you know will someday die?") in between whispering sweet nothings on songs with titles like Ego Tripping at the Gates of Hell - make this something utterly special.
Yes, it might sometimes resemble Mercury Rev, those fellow exponents of New American Psychedelia with whom they share a producer in David Fridmann. But it's twice the album their last one was. And some of it reminds of Beck's underrated Mutations - he thinks so too, as he's got the Lips as his backing band on his next American tour.
And yes its Manga-styled wackiness and attempts to set the underlying themes of Blade Runner to music might lose its novelty after a while. But that's a risk worth taking on what sounds like a already bona fide whacked-out classic.
- Russell Baillie
2003
White Stripes, Elephant
(XL Recordings)
That those who care about the crusty concept rock'n'roll have pushed the White Stripes out of the cultdom they've enjoyed on their first three albums into the spotlight on this on says what about the state of the music? It's desperate for something new? Something real? Something new that sounds real old? How about that in an age of conveyor-belt rock stars, we just need something genuinely weird, loud and fundamental?
And if it happens to be a colour-co-ordinated boy-girl duo whose exact relationship is a little hazy, hey, all the better.
There's a little more riding on Elephant than whether it will just keep Jack and Meg White in a new set of team colours.
It's the first key album of the whole (embarrassed cough) garage-rock movement - quite possibly the Nevermind of its era. Up to the task?
Yes, very. Especially with Elephant's high count of absolutely, er, mammoth songs, enough variation on their minimalist guitar-drums-and-voice approach, and many an explosive performance with just the occasional let-up from all that fuzzy frenzy. It sounds like the White Stripes have peaked just when it mattered most.
Many of the 14 songs still holler the blues in a curious way (Ball and Biscuit, I Want to Be The Boy to Warm Your Mother's Heart); some come on like a pocket edition Led Zeppelin (Black Math), a couple kick out the jams (Hypnotize, Girl You Have to Have Faith in Medicine) and a couple just twang gently (the Neil Young-ish You've Got Her In Your Pocket) or let Meg's deadpan singing voice come to the fore (In the Cold Cold Night).
She and guest voice Holly Golightly also figure in the final track, Well It's True We Love One Another, which caps this off with a sweet in-joke.
Great album. Expect international outbreak of Elephantitis any day now.
- Russell Baillie
2004
Franz Ferdinand, Franz Ferdinand
(Domino/Sony)
It seemed for a while there the best new British art-pop bands were coming out of New York. There have been the Rapture, Interpol, Stellarstar* - and occasionally the Strokes - doing their bit to keep alive the jerky dance of early-to-mid-80s English rock. Between them, it sounded like the early works of the Cure, Joy Division/New Order, Gang of Four and others were being plundered to build a new movement. One which seemed to say that after the big dumb fun of garage rock, it was time for thinking man's guitar music music once again. Now here comes Franz Ferdinand - a band with roots both sides of Hadrian's Wall - to reclaim that legacy, as well as maybe inject some fun and sniffy attitude into the post-Britpop years.
They do that by delivering a cracker of a debut, one which makes it easy to see why they've been the buzz band at home since the beginning of the year and why they might be that British rock rarity - a band which translates from the cover of the NME out into the big wide world.
Stylistically they're about as derivative as those aforementioned NY outfits, but it's the dark panache of the songs that makes them an altogether superior and more satisfying offering.
As their historic name suggests, they are very arch dukes - lyrically louche frontman-guitarist Alex Kapranos can remind of Pulp's Jarvis Cocker, Bryan Ferry from Roxy Music's early years, Howard Devoto of the Buzzcocks and Magazine.
Behind him guitarist Nick McCarthy, bassist Bob Hardy and drummer Paul Thomson twitch with collective glee and power, sometimes sounding like they would rather be in the New York of early Talking Heads and Television.
And once or twice - The Dark of the Matinee, Take Me Out - they sound frighteningly like Split Enz from the wacky hairdo days.
It starts splendidly off-kilter with Jacqueline's loquacious intro, then bursts into thrilling bass-driven rumble. And between that and its Gang of Four-like finale 40', the askew but curiously groovy tunes just keep on coming.
Along the way, FF's songs play the tease in various directions. It sounds as if Kapranos has his heart set as firmly on Michael as office girl Jacqueline; Auf Achse's voyeuristic lyrics invite quick lapdance to a Euro-disco beat, while This Fire is FF's contribution to the list of great arson anthems.
Sure, their sound may hark back to a time of Margaret Thatcher and bands like the Monochrome Set. But that doesn't stop Franz Ferdinand's debut sounding like it will be one of the most strangely vital things you'll hear in 2004.
- Russell Baillie
2005
Bic Runga, Birds
(Sony)
She took six years between her big-selling debut Drive and her bigger-selling follow-up Beautiful Collision.
So the three-year gap and the reported relative ease of recording - wrote some songs, got some famous mates in, took over a stately home in Hillsborough as a studio - may well indicate she's gone and rushed things a bit. That makes sense after the painstaking stop-start globetrotting experience of Beautiful Collision, which in the end made for an album that, as good as it was, suffered from some weak songs and some incohesiveness.
The first thing that impresses about Birds is that its 11 tracks certainly flock together.
Stylistically, it dallies in the blues, country, and a song or two that suggests something rubbed off on Runga from her time in Paris. There are also sundry tracks of sweet Bic-pop - the relatively upbeat opening track and single Winning Arrow and the airy Listen.
But they all coalesce into something of an 11-part drama of romance, heartbreak, desire, despair and occasional bouts of backwoods weirdness.
There's something decidedly Gothic happening around the edges of this - helped by the palpable atmosphere evoked by the sound of the recording at Monte Cecilia House (Cecilia is the patron saint of music).
There's also a sense that Runga is working from a wider musical palette than she has before, or than most any of her young female singer-songwriter contemporaries.
The aforementioned Winning Arrow has a trace of the Smiths and Carole King; If I Had You has hints of Hank Williams and classic Burt Bacharach who'd be proud to have penned the likes of Say After Me.
Some other songs suggest a particularly French brand of heartbreak pop - like the title track, which, after its delicate opening, spirals into something positively psychedelic.
It's around the half-way mark that Birds turns spooky. First there's the slow shimmer of Ruby Nights, which would give Nick Cave insomnia, then the hillbilly twang of No Crying No More suggests her southern roots aren't confined to the Garden City.
Past the romantic pleadings of the aforementioned If I Had You it's into Captured, the album's most haunting moment of an often eerie bunch with Runga's woman-possessed vocal over a beautifully foggy swirl of piano and strings.
There's brief relief from all that minor-key melancholy on That's Alright and the the jaunty Blue Blue Heart.
But then Runga goes and caps it off with It's Over, a slow-burnin', heartbreakin' soul-blues number that wouldn't sound out of place in a David Lynch nightclub scene.
It's a striking ending to an album that will make many wonder whatever happened to that nice Bic Runga, our favourite gal-nextdoor-singer-songwriter.
She moved on, took some risks, tapped into something deeper, made her best album yet. That's what.
- Russell Baillie
2006
Mint Chicks, Crazy? Yes! Dumb? No!
(Flying Nun)
About bloody time. We've been looking at the star budget we have for our album reviews. It's already September and we're seriously underspent. It's not there haven't been good albums this year. Just not many for us to go five-star nuts over. But here, at last, is one. And it's not just us finally buying the Mint Chicks' particular approach which marked their last year's contrary debut album [Expletive] the Golden Children. No, it seems that the frenetic quartet, led by the brothers Nielson, have discovered there's nothing more dangerous than a good tune.
There's a run of skittish, loopy, lyrically-askew infectious tunes among the 14 tracks here. Any number of them have the ability to lodge themselves in your brain through a combo of the band's wiry wobbly energy and Kody Nielson's adenoidal vocals.
Yes, he and the rest of the band can be reminiscent of various bygone eras - the Swingers and the Buzzcocks especially on the likes of You're Just as Confused as I Am or the Phil Judd-fronts-the-Strokes of Walking Off a Cliff Again. And there's also the occasional dollop of Devo (If My Arm Was A Mic Stand Would You Hold My Hand) and doomy, churning post-punk (Funeral Day).
Oh, they manage to be both tongue-in-cheek and heart-on-sleeve on the 50s throwbacks of the title track and Sleeping During the Day. All of which prove the Mint Chicks can write songs as well as they can pull them apart, which seemed to be the ambition of the previous offering.
That might sounds like the Mint Chicks have swapped confrontational for conventional. But there's still something subversive going on here, something appealingly weird and off-kilter.
Perhaps it's just that they're now following the scientific rule they named their stop-start raucous opening track Ockham's Razor after.
Pretentious? Well, not if you take Ockham's view that "entities should not be multiplied unnecessarily" and apply the famous rock'n'roll translation: "Keep it simple, stupid."
They still sound like nothing else around - like a band who would rather screech from the sidelines than join the local rock fray in centre field. And if dear old Flying Nun has long become a sub-brand of convenience for its major label proprietors, at least the Mint Chicks are still doing that legacy proud - by reminding us of a time when the best New Zealand guitar pop was made by outsiders with a nervous twitch and a head full of tunes.
- Russell Baillie
2007
The Phoenix Foundation, Happy Ending
(Flying Nun)
Don't be surprised if you can't stop whistling Phoenix Foundation's Bright Grey as you walk down the street, smiling stupidly to yourself. In fact, don't be surprised if the little granny waiting at the bus stop that you've just walked past, with her grey hair sparkling in the beautiful sun, starts whistling the tune too. It's that catchy.
When the Wellington six-piece released their debut album, HorsePower in 2003 there were a number of similarly catchy tunes, like This Charming Van and Going Fishing. Follow-up, Pegasus, was an intense and beautifully crafted album. On their third, Happy Ending, they haven't so much combined the two albums, more like brought the two moods together and come up with something relaxed and effortless, yet accomplished and polished.
Apart from elements like the steel guitar on Irrelevant Noise, the loping Pure Joy, and the loutish thigh-slapping of No One Will Believe Me When I'm Dead, there are less obvious country tinges to Happy Ending.
This is pop music. It's not your typical sort of pop music, of course. But this band, led by bearded Wellingtonians Samuel Flynn Scott and Luke Buda, do weird pretty well and that's the reason they recently composed the soundtrack to oddball movie Eagle vs Shark.
The Phoenix Foundation's whimsical and magical qualities transport you to another planet, and that's the best indication of a perfect pop album. And another thing, it is one of the best examples of pop music that this country has produced.
Bleaching Sun, with Scott's cheeky line "I'm cooking up, a little kooky scheme", keeps the sing-a-long going after Bright Grey, then there's the dulcet dreaminess of Slumber Party and the swooning Gandalf (with the lovely line "She came on like November, pretending to be summer."), before they launch into live favourite 40 Years, on which they do their fellow Flying Nun bands proud.
Funnily enough, Happy Ending ends in a pensive mood. But thanks to the stunning arrangements of trippy instrumental Omerta, the tear-in-your-eye refrain of Burning Wreck and the delicious Sugar, it is a happy ending after all.
- Scott Kara
2008
Fleet Foxes, Fleet Foxes
(Sub-pop)
You can tell the five members of Seattle's Fleet Foxes grew up listening to bands their parents loved, like The Beach Boys, Steely Dan and Crosby Stills & Nash. Singer Robin Pecknold's first halcyon utterances on opener Sun It Rises are a perfect pitch for launching into Good Vibrations, but instead of erupting into a crazy, excitable love song, Fleet Foxes conjure up a lilting mantra of mandolin, steely guitar, thrumming drums and choral harmonies. It's here something special starts to unfold.
It's harmonic pop. But also experimental, brave, fresh and, most importantly, they are never afraid to be stunningly beautiful, like on the acoustic Meadowlarks.
Since leaving home they've obviously devoured many styles of music, from classical to jazz to psychedelia and, as the cover art attests, English folk music.
There's Ragged Wood, a three-part mini masterpiece, which canters off only to be reined back in by acoustic guitars and a Procol Harum organ, and the way they launch, flute-and-all, into the dark gypsy folk of Your Protector (where they run with the devil) is so self-assured it's scary.
As an album, Fleet Foxes has a similar, musically rebellious and brazen feel to it like the Kings of Leon's debut album, only less dusty and sweaty of course.
The other scary thing is you sense there's even better to come from Fleet Foxes in the future.
Them Crooked Vultures, Them Crooked Vultures
(Sony)
- Scott Kara
Put simply, Them Crooked Vultures sound like Queens of the Stone Age, Foo Fighters and Nirvana, and of course, Led Zeppelin. Not a bad combination really. This supergroup, made up of Led Zep's bass player and keyboardist John Paul Jones, the Foo's Dave Grohl on drums, and singer-guitarist Josh Homme of Queens, got together earlier this year, announced a world tour, and then the release of this album.
It's Homme, the least famous of the three, who dominates with his mangled take on rock'n'roll, which is full of heavy melodic riffs, and that sweet but spaced-out voice seeping through. Yet there's no denying Grohl and Jones' contribution. The former, with his lucid hammering style, is one of the best drummers around, and is straight to the fore on opening chugger No One Loves Me And Neither Do I; and JPJ remains a bass-playing great who also throws other instrumental flourishes into the TCV's mix just like he did in Zeppelin. His Superstition-style keyboard on Scumbag Blues should sound wonky and wrong, but it's inspired, and he has to be responsible for the deranged orgy of exotic sounds on the sick and saucy Caligulove.
TCV's are at their best when songs like Elephants and Bandoliers warp effortlessly from a sluggish and dingy groove into something crisp and majestic.
Another highlight is the debauched carnie discord of Warsaw Or The First Breath You Take, which touches on the desert psychosis rock of Queens as it sprawls out across seven minutes.
Lyrically, Homme comes up with some of his best and most twisted lines from "catching tigers by the tail" on Gunman, with its cosmic gonzo metal groove, to being "plucked from the garden of wretched beliefs" in Elephants.
Elsewhere there's the wailing blues rock of Mind Eraser, No Chaser; woozy first single New Fang; and the dark desert boogie of Dead End Friend (yet another Homme road trip anthem).
It's a powerful, cocky, and gutsy record - and so it damn well should be considering these guys are legends in their own lifetimes.
- Scott Kara