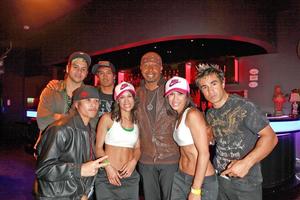 MC Hammer was in town on Thursday to promote the Xbox 360 karaoke game Lips: Number One Hits, which features the track that shot him to fame. He invited me to join him and his peeps for a very private, very exclusive late-night dinner in the Velvet Room following his performance at Sale St and I had the privilege of meeting the man and finding out what makes him tick.
Click here to view photos of the night.
He loves Alaskan Crab, Twitter and thinks Breakfast cadet reporter Alison Pugh is hot. He rarely uses the phone to speak and doesn't like people calling him when he goes on tour, family excepted. His opera-singing daughter rang this week asking if she could go to Spain and he shows me many personal family snaps on his iPhone. He jokes he's envious of his kids and their amazing dance moves.
Clearly they're chips off the old block. He likes muscle cars, Byzantine art and grows a banana plantation on his estate in Tracy, California. It reminds him of the Caribbean. He lives not far from Napa Valley but only just started drinking wine last year. He wears an expensive-looking crocodile skin jacket to dinner (a gift, he says) but he dismisses anyone who wants to talk about material possessions. He grew up in poverty and these days shows no signs of a frivolous celebrity existence.
He is a philanthropist and works in Romania and India with various children's charities but wonders why the media only want to ask him about the bling. He is an accomplished iPhone photographer and is collating more than 5000 images into an online library. Aerial snaps of Auckland from his flight take pride of place when we meet, but on hearing compliments about his photography skills, he drops the corny line: "I know how to treat my camera: like a lady, I know how to press her."
He Tweets incessantly. The phone never leaves his side. He must have met his match when Mike Hosking interviewed him for Close Up. You wonder why they didn't flag the talking for Tweeting instead. Would make for boring telly, I guess. He admires Paris Hilton's acumen in self-branding but will offer up silly impressions of her posing and preening on the red carpet at various parties he sees her at.
He has the stamina of a man half his age (he's 47 years old) and while our dinner concludes around 1.30 in the morning, Hammer shows no signs of fading despite only four hours sleep the previous night and a trans-Tasman flight and back-to-back interviews.
He didn't wear a sock down his uber-tight budgie smugglers in the music video Pumps in a Bump. He really is that well-endowed, he said. I asked. He said women would ask all the time after viewing that video, but he felt if the women in the video were going to wear exploitative bikinis, he should do too.
He is a Christian of non-denomination and embraces all beliefs, but he has no time for anyone who dismisses micro-blogging site Twitter as banal and pointless. He calls that ignorant and he let one Sunday newspaper journalist have it when she had the temerity to scoff that he just tweeted about his pants. He calls himself a perfectionist and was disappointed the sound system wasn't cranked to full capacity when he took to the stage on Thursday night at Sale St.
He is his worst critic but he seeks to find the positive in everything. He reckons he can be a diva and yet the only special request he makes at dinner is for a nice New Zealand white wine. Oh, and Alaskan Crab. The chef at Sale St had to quickly locate some at the fish markets.
Rachel Glucina
Pictured above: MC Hammer at Sale St. Photo / Norrie Montgomery