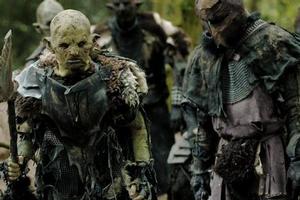 Pop quiz: what is the fifth most popular Lord of the Rings film? Well, we've had that trilogy, and the 1978 Ralph Bakshi cartoon version ... number five?
How about the latest addition to the Tolkien cinematic canon The Hunt for Gollum?
After all, it's already had four million viewings of its 40-minute adventure involving Aragorn, Gandalf, sundry orcs and the creepy wee chap of the title.
Only, while it can look like it's spun off the Peter Jackson-helmed franchise - "in so many other ways, it looks like 40 minutes of additional footage for LOTR that just never made it into the trilogy" said Wired magazine - The Hunt for Gollum is yet another fan-film.
It was made by a group of British film nuts and post-production boffins in their own time for just £3000 ($6500).
The film had its big screen premiere at the Sci-Fi London convention in May and it comes to Auckland this weekend as part of the annual Armageddon Expo after logging some four million streaming views on Dailymotion and Youtube.
The film took more than a year of weekends and holidays for an all-volunteer cast and crew and a further six months of post production, says co-producer Spencer Duru, who is chuffed the film is being screened in New Zealand.
There's actually some NZ in the film, says another co-producer, Brian Lavery: it's among the film's mountainous vistas which were digitally treated to resemble the Middle-earth of the Jackson trilogy, while some of the other landscapes were shot on high-definition video in Wales.
"Wales is beautiful. It's got an aura about it which meant we were able to emulate your land." says Duru. "You point the camera one way and it looks just like a boring part of Hampstead Heath and then you point it the other way, it's Middle-earth."
The film, directed by Chris Bouchard, snowballed from some early footage of a fight between Aragorn and group of orcs. Posted online, the scenes allowed the initial team to attract more volunteers, mainly Londoners involved in the film and television industry or just mad keen Lord of the Rings fans, to join the project.
The Hunt story was spun off from the appendices of Tolkien's story and covers what Gandalf might have done after he left Hobbiton after Bilbo's birthday party. Apparently, he met Aragorn and asked him to track down Gollum, worried about the power of the One Ring and what Sauron's forces might know of its presence in the Shire.
"I adore the Lord of the Rings books and films so I searched through for a part of the story that had been neglected - something doable on a limited budget -and found the story of Aragorn's search for Gollum," Bouchard told SFX. "It was perfect. It had just a few characters. He travels all over Middle-earth, so we could visit some cool locations, and it has Gollum and Gandalf in it - two of my favourite characters. Plus we could work in some of those pesky thieving orcs. All I needed was a couple of actors, a camera, and some willing crew."
Despite THFG's close resemblance to the LOTR trilogy, the team came to an agreement with New Line Cinema, the Tolkien estate and publishers over copyright (a spokesman for Jackson said they have chosen not to comment about the film).
So long as the makers run disclaimers saying it is an independent production and don't try to profit from the work (it can only be streamed, not downloaded), they are free of litigation worries.
"Yeah it was good of them" says Duru. "We were at one point worried [about] them saying 'right you can't release this film' but we just said 'what requirements do you ask of us?' and they were reasonable."
Where most fan-fiction flicks are enthusiastically amateurish and can veer towards parody, THFG is a striking looking piece of work - though there are some rough edges to the acting and dialogue. Plus Gollum spends much of his screen time unseen, writhing about inside a sack. "I wish we could have had a 3D Gollum all the way through," laughs Duru about their clever cheat. "Our few seconds of Gollum at the end was our real Gollum.
"It was really annoying getting the sack right because if you can imagine days of shooting sporadically, trying to get that sack to look the same every time, [it] is annoying, especially as it can't look like it's just rocks or footballs in there."
And no, they won't be following their project up with two more instalments.
"Oh God no. We are on to different things now. Something we can get some money out of."
What: The Hunt for Gollum, screening as part of Armageddon Expo
Where and when: ASB Showgrounds, October 24 to 26
Info: thehuntforgollum.com and armageddonexpo.com
Also: Another British-made Lord of the Rings fan film, Born of Hope, premieres online on December 1. See www.bornofhope.com