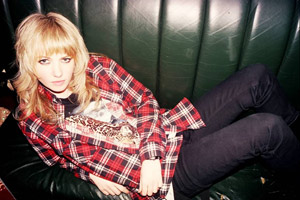 She won just about everything going at the NZ Music Awards last night, but who is Ladyhawke?
Thirteen things you may or may not need to know:
1. She was born in Masterton and currently lives in London.
2. Her real name is Pip Brown.
3. She refuses to wear women's clothes because "I don't like conforming to gender stereotypes".
4. She has Asperger's Syndrome, a condition which affects people's ability to interact with others.
5. She has described New Zealand in US interviews as "tiny" and "isolated" with an "amazing" music scene.
6. She says her influences include Nicks, Blondie, Pat Benatar and Kim Wilde.
7. She doesn't do drugs, or smoke. But she does like herbal tea and alcohol.
8. On her Myspace page she lists the things she loves as: "guitars, synths, making noise, pressing buttons, wires, cables, solitude, staring at screens, movies, collecting stuff, video games".
9. Courtney Love, Kylie Minogue and Perez Hilton are fans of her music.
10. Her self-titled album went gold in NZ, Australia and Britain.
11. Her mother was a singer/guitarist and her stepfather a jazz drummer.
12. Ladyhawke was a character played by Michelle Pfeiffer in a 1985 movie.
13. NME said she speaks in "a voice not much louder than a dormouse requesting the collection plate in church".
Watch Ladyhawke's Magic on youtube
- NZ HERALD STAFF