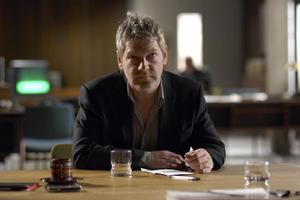 Television viewers will be meeting Kurt Wallander for the first time this weekend, as UKTV delivers Wallander, the BBC co-produced three-part miniseries based on Henning Mankell's series of novels.
The physically bloated, emotionally broken and proudly Swedish detective Wallander bears little resemblance to the 48-year-old actor who plays him: the fit, friendly, Irish Kenneth Branagh. The award-winning stage actor and director and four-time Oscar nominee exploded on to the American scene with 1989's big-screen Henry V, then continued with a string of other Shakespeare movie adaptations, as well as an Emmy-winning performance in the 2001 Nazi drama Conspiracy.
It seems that age is the only obvious tie that binds you to Wallander.
Well, he is certainly 48, but my playing-age is more like 25-30, I'd think you would agree?
Uh, yeah ...
The great thing about Wallander is that he is an extreme and flawed version of parts of all our own personalities, I think of him as an everyman.
He is sort of an antihero. He could take better care of himself physically, in terms of his personal wardrobe. He might make more of an effort. He might dress for success a little more, be a little aware. I know he wants to have a relationship. God! I'm talking as if I'd been on the phone with him.
Sweden plays a key role in this miniseries.
There is something about the summer light in Sweden - you get the sense sometimes that you have permanent "Magic Hour" where anything is possible ... When I first read it, I was reminded of a David Lynch territory. On the surface: order and neatness; a beautiful Scandinavian order and design. Underneath, an unsettled, agitated rather eerie excitement and tension.
That said, reports are that, during filming, you headed back home as often as possible.
I did come home a lot, yeah, I did want to put the man to one side. I found that the few times I stayed in Sweden over the whole weekend, the walls can close in slightly, and I didn't want to be permanently connected to Wallander's psyche. ... [By the weekend] I needed to, you know, wash that man right out of my hair.
After some not-so-well-received films, it's an amazing period for you. Wallander was top winner of the Baftas (the British Emmys), and you're coming off some of the best reviews of your career for Ivanov on the West End.
A friend of mine once said, "Isn't it nice when things go well?" and it is very nice when things go well. But I don't put any less effort or passion or commitment into anything I've done. That's just the way I am. I am conscious that I do something with privilege and with enjoyment and a relish with what I do, even when it's challenging and it's difficult. But I would still pay to do it.
And next you'll be directing Marvel's Thor.
Thor starts shooting in January. We are in the midst of pre-production and I'm having an absolute ball. I'm learning vast amounts every day and enjoying it hugely and I'm very excited about what we are doing. I can't tell you any casting news, but I can tell you we are working very hard and brilliant things are occurring.
- AP
Wallander sceens on UKTV, Mondays at 8.30pm, from August 10