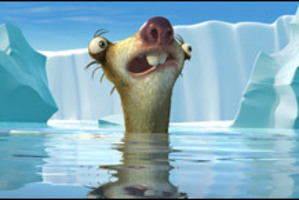 Herald rating: * * *
The first Ice Age was a rare beast, a computer-animated animal flick that didn't feel like a throwback to the days of Disney's hand-drawn - and occasionally musical - furry tales.
And didn't just rely on Looney Tunes slapstick or its celebrity voices for its humour. It had a structured story, conflicted characters from various parts of the prehistoric food chain, impressive computer animation and a brilliant opening act in "Scrat", a sort of sabre-toothed rat-squirrel struggling to save the last acorn before the big freeze.
This time Scrat pops up all the way through Ice Age 2 like some ancient ancestor of the luckless Wile E. Coyote. Which is frequently funny - he got the biggest laughs from the kids in my row - but also reminds just how patchy the rest of the actual flick is.
This time the trio of Sid the Sloth, Manny the Mammoth and Diego the Sabre-Toothed tiger must lead their fellow neighbourhood beasts out of harm's way when their valley is threatened by a flood brought on by global warming.
There are things hindering the plan, apart from Sid's dimness. There's a female mammoth (voiced by Queen Latifah) with an identity problem - she thinks she's a possum (also known as the Dame Edna Complex) which complicates matters when Manny suggests, politely, they should get together to save their species.
There are a couple of thawed giant and hungry dino-fish on their tails and then there are the rising waters, meaning Diego has to face his feline fear of water, the big pussy.
Add those frequent Scrat-sketches, a couple of musical numbers (including a chorus line of vultures singing Food Glorious Food), lots of Looney Tunes-style slapstick and animation that shows little evidence of upgrading from the 2002 original, and Meltdown ends up decidedly lukewarm.
For a sequel - and the likes of Toy Story 2 show you can always build a better computer-animated blockbuster second time round - it's just rather unevolved.
Yes, the usual rider about "the kids will love it" applies for its sketch-by-sketch humour.
But those young uns who loved the original Ice Age for its story are now three years smarter and here they may well smell a Scrat.
VOICES: Ray Romano, Denis Leary, John Leguizamo, Queen Latifah
DIRECTOR: Carlos Saldanha
RATING: PG (some scenes may scare very young children)
RUNNING TIME: 90 mins
SCREENING: Village, Hoyts, Berkeley cinemas