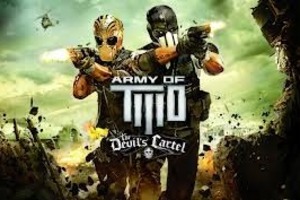 The latest Army of Two adventure begins as so many games do these days - with an ambitious recreation of a Hollywood film's opening scenes. You've got the varied camera angles, dialogue that's slightly too vague to be useful as exposition, superimposed credits. It promises a good time.
Our heroes are in Mexico, riding with other mercenaries in a convoy protecting the one politician staunch enough to take the fight to the country's drug cartels. There are armed men walking the rooftops along the route. The rent-a-warriors trade comments about the dullness of this routine operation.
After the predictable ambush and slaughter of almost everyone involved, the game throws you back in time to a basic training session where you'll learn what the buttons do, because printed manuals went out of fashion years ago. It is here that things start to go horribly wrong.
The game paints itself into a corner artistically here, sacrificing its story flow so you can teach yourself how to outflank an enemy as if it's some brilliant new concept that hasn't been done a million times before.
There are some nice gems in the dialogue, including a quip about red barrels always being explosive, but for every good line there are half-a-dozen clangers - often sexist, but usually just the kind of daftness that makes it about as far as the second draft of a high school drama group's original script before the teacher rightly eliminates it with thick red ink. In the gentlest terms I can possibly find, this should not surprise you as a player because your operatives in this game are absolute dribbling idiots. I know I said the original Gears of War trilogy was a bit thick-skulled, but this game takes the cake and head-butts it into unpalatable mush.
The cack-handed storytelling could be forgiven if The Devil's Cartel was fun to play and made the most of your two-man tactical skills. It isn't fun and it doesn't engage your talents. You can lazily flank around obstacles to defeat your enemies, you can hide behind the easily destructible cover and pop off shots, or you can stand directly in front of an armed opponent and casually line up your rifle's viewfinder with his head - while he internalises the really complicated situation - before you blow it off. You can do pretty much all of this without issuing a single command to your computer-controlled partner. Who needs an army of two?
As a cover-based shooter, this game fails too. I thought I was messing up when I couldn't get my guy to take cover and then successfully emerge during the basic training, but there's some hidden rail in there that makes emergence trickier than it should be. It's even more annoying in actual play and would probably result in many frustrating deaths if you weren't in control of an extremely resilient bullet sponge.
A colleague asked me if I was looking forward to playing this latest "Army of Deux" caper but I'm afraid this would be more appropriately titled Army of Duh - a big, dumb game that makes Michael Bay's mindless cinema boom-fests look like cerebral masterpieces in comparison.
The only positive things I can say about this game, as it happens, are Bay's saving graces as well: The graphics and effects are impressively detailed and textured, and as an audio exercise this game comes out a winner. It is a shame there's no substance beneath the surface.
Outflank this one and find something better.
Stars: 2/5
Platform: Xbox 360, PlayStation 3
Rated: R18
- TimeOut