Singer-songwriter revives spirit of 80s album Graceland among his other past hits.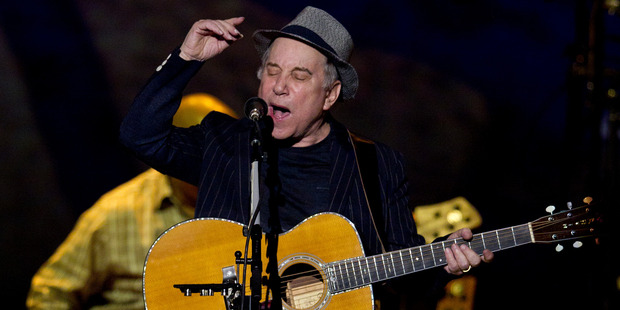 Paul Simon was last here four years ago, reunited with Art Garfunkel for a reunion show which neatly revisited their past glories. It was pure nostalgia.
Last night, Simon solo, on the other hand was, neatly skewed nostalgia as the 71-year-old American singer-songwriter reminded the audience how the shorter brilliant half of that 60s folk duo kept widening his horizons, kept having hits, and kept joining the dots between music from all over.
A good deal of last night's spirited show was dedicated to Graceland, his 1986 African-inspired album which remains that rarity - an 80s album that still seems like a good idea today. With a cosmopolitan backing band - each a musical Swiss Army Knife for the number of instruments they played - Simon's glorious two hours on stage started out with the sunny township jive of Gumboots, skipped neatly through Diamonds on the Soles of Her Shoes late in the main set, and got to the Graceland title track in the encore, merging into a Bo Diddley blues number which made for a particularly groovy musicological case study.
Earlier, Simon offered lateral-minded takes on those S&G hits, like a solo acoustic Sound of Silence - as it might have sounded before the epic folk-production it received which made it a hit; likewise, there was a hazy reinterpretation of The Only Living Boy in New York while opener Rufus Wainwright was brought back on to add high Garfunkelesque harmonies to The Boxer later in the piece.
Accompanying himself on piano and guitar, Wainwright acquitted himself nicely in his opening slot with a greatest hits kind of set which included his take on Leonard Cohen's Hallelujah which went down well with a crowd largely unfamiliar with him despite his three previous Auckland concerts, the last of which, he reminded us, left him half-dressed and draped over one of the Civic's lions.
Later, when Simon embraced Rufus after Boxer, it was a bit like New York pop's Yoda hugging Luke. And like the little green guru, Simon was a tightly wound ball of energy - whether counting down those 50 Ways to Leave Your Lover, leading a grand jazz odyssey take on My Little Town or reminding that, songwriting wise, he's still got it with the title track of most recent album So Beautiful, or So What?.
It was a show which did seem to reach the encore cut-off point a little early. But it was still a magical display of Simon's enduring genius.
Who: Paul Simon, Rufus Wainwright
Where: Vector Arena, Auckland
When: Monday, April 8