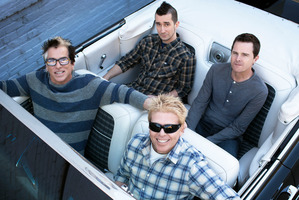 Here's the thing about the Offspring: No one likes all of their songs. In fact, they vary so much in quality you'd be hard pressed to find a fan who owns all nine of the band's albums.
Which makes seeing the Californian pop-punk pranksters live a dubious prospect: For every singalong power-rock anthem that left fans gasping for air, there was a track pulled from their extensive back catalogue of throwaway joke-rock hits.
Nothing exemplified this more at last night's Auckland show than their fiery version of Bad Habit, the band's full throttle ode to road rage that had Vector's dedicated 3000-odd fans jumping around like it was 1994 all over again.
The front rows went so nuts that guitarist Noodles labelled them "animals".
Unfortunately, just as the Offspring seemed set to raise temperatures further, they played the ridiculous ska and faux reggae of OC Guns, an embarrassment of a song that doesn't deserve to exist on record, let alone at a live show.
It was like that all night, as the Foo Fighters-infused anthemic rock of Days Go By, shouty punk of All I Want and frenetically-paced Kids Aren't All Right hit all the right notes, but were let down by Hit That's nursery rhyme hook, Why Don't You Get a Job's silly simplicity and the acoustic cowbell-infused rock of Spare Me the Details.
And the jury is still out on Pretty Fly (For a White Guy), the band's chart-topping single from 1998 which contains one of Noodles' best hooks, but the lyrics - which name check Vanilla Ice and Ricki Lake - haven't aged well.
If you haven't seen the band perform live since they were last here in 1999, there's plenty of good news: front man Dexter Holland's voice sounds exactly like it did 20 years ago; they played four tracks from their best album, 1994's Smash; and the sound levels at Vector Arena were near perfect.
And they thankfully left Cruising California (Bumpin' in my Trunk) - a ridiculous rap track from last year's Days Go By album that has been a staple of recent live shows - off the setlist. Dodged a bullet there, New Zealand.
But the Offspring nailed several key moments when it counted, like set highlight and compulsory singalong Gone Away, the still-awesome chorus of Come Out and Play (Keep 'Em Separated) and set closer Self Esteem - a song sung so loudly by the crowd all Holland could do was stand there and smile.
All in all, the Offspring are still pretty fly - just not as often as they could be.
What: The Offspring, Billy Talent and Villainy
Where: Vector Arena, Auckland
When: Wednesday, February 27