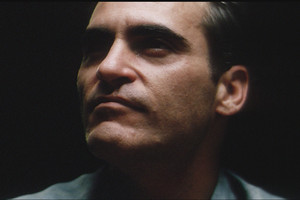 The opening shot of the new film by the always-interesting, often-exasperating Anderson recurs several times: it's the wake of a big boat seen from the stern, the water churned and roiling, its sudsy foam suggestive of wash-me-clean redemption. As it trails out, it's like time itself: the past is getting more distant by the second and, as the camera's angle of view makes plain, the future is behind us, out of sight.
The visual motif may point to the film's impelling idea, but if so, it was long ago lost among grand set pieces and extravagant characterisations. Hoffman, Phoenix and Adams act their socks off (and have all justly earned Oscar nominations for their pains), but the harder they try the more the life seems to drain from the film as a whole.
Unlike the extraordinary There Will Be Blood, which distilled the sweep of history into a specific, compelling yarn, The Master is all character; story is only incidental. The result is that it disappoints even as it exhilarates.
The main character, played by Phoenix, is Freddy Quell (Anderson, who created a porn star called Diggler and an oilman called Plainview, is good with apt names). We meet him on a sundrenched Pacific island in the last hours of World War II, and he quickly impresses as a troubled soul, an able seaman who attends with equal single-mindedness to the manufacture and consumption of powerful liquor (which may explain why about 10 per cent of his lines are incomprehensible).
Back in civilian life, he has trouble adjusting, to put it mildly: employed as a portrait photographer in a department store, he attacks a customer out of rage against the middle-class complacency he sees all around him; he loses another, as a crop-picker, when one of his cocktail-making operations goes tragically wrong.
Anderson does not trouble himself to explain why Quell is next seen impulsively boarding a luxury yacht moored in San Francisco Bay, but the following morning, on the high seas, he is discovered as a stowaway and ushered into the company and the world of Lancaster Dodd (Hoffman), aka The Master.
Dodd, who introduces himself as "a writer, a doctor, a theoretical philosopher, and a nuclear physicist ... but above all, a man" is leader of a philosophical movement called The Cause and the two men fit together as guru and disciple like a right hand in a left-hand glove.
The Cause's obscure vocabulary (people who are "aberrated" submit to "processing" to get rid of "negative emotional impulses" with which their traumatic past has riddled them) has prompted comparisons with Scientology.
But you'd have to be as stupid as Tom Cruise to see the film as an attack on L. Ron Hubbard - and if it is, none of its punches lands with any force: Dodd is a blowhard and a bullshit-artist, but he's often quite likeable.
If it's an attack, it's on hucksterism of all sorts - Hoffman captures perfectly the way in which charisma can make empty-headedness plausible, a pointed comment on our age if ever I heard one. But primarily it is a character study: these two men make unlikely soulmates - the reason for their attraction to each other is not clear to us or to Dodd's wife Peggy (Adams), whose apparent meekness hides a steely resolve. And the entirely inconclusive story arc makes a heavy demand on the viewer.
It's the misshapen architecture that remains the biggest problem, though: the crop-picking episode and the rest of Quell's five post-war years pass in a blur, yet long minutes are devoted to an obscure sequence in which both men ride a motorcycle through the desert.
In that scene and others (a flight through ploughed fields; the department store interiors; the close-up two-hander scenes) Anderson's cinematographer, Mihai Malaimare, turns in ravishing work - though screenings here won't show it at its 70mm best. But, like the score by Radiohead's Jonny Greenwood, it's more than the film can bear.
It's as though the filmmaker has ideas for moments in a story but no sense of the story itself. We end up being more fascinated than we should be by two characters who never really do anything to command our attention.
Stars: 3/5
Cast: Joaquin Phoenix, Philip Seymour Hoffman, Amy Adams
Director: Paul Thomas Anderson
Running time: 143 mins
Rating: R13 (sex scenes, offensive language)
Verdict: A mesmerising and magnificent failure.
- TimeOut