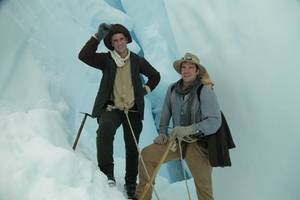 I really tried this time. I gave it my very best. I wanted to beat my PB. I was going for gold. That's a lie. I was really having a lie down. At best, I was going for bronze - and nobody goes for bronze. They don't even go for silver. Silver's for losers. The Russian girl who got silver in the women's overall gymnastics cried and cried and cried some more. She looked like she'd eaten cat sick. She looked like she'd been given a kick in the guts and been told to be grateful it wasn't a kick in the head.
The weightlifter Wu Jingbiao cried. "I'm ashamed for disgracing the Motherland, the Chinese weightlifting team and all those who supported me." What a carry-on. I was happy with my bronze effort on the Olympic couch watching event and that is why I will never win a gold. Also, I took stimulants and cheated in other ways: I didn't watch anywhere enough to have won any sort of medal.
I just don't care enough to watch more of the stuff because I don't care enough about winning. And I don't have a PB, which is sports talk for personal best.
If I did, I'd want to go under it, so as not to have exert myself. I'm lazy, easily distracted and have next to no tolerance for ra-raing and possibly even less for our ever-so-'umble attitude. I did admire - and enjoy- Mark Todd's response to his bronze: go out on the old ran-tan, have more than a few glasses of wine, while sporting a grin as wide as the water jump. Good on him. He's the sort of athlete I admire. I raise my glass to him.
Now, rowing. I did watch some rowing and didn't we do well? We? There lies my other problem with the sport of Olympic viewing. I can watch, in sozzled amazement, the feats of New Zealand's rowers, (it's nice and fast) but I can't get the "we" bit. They certainly couldn't have even got over the starting line, let alone over the finishing one first, if the "we" included me.
We'd have been down the pub, hopefully with Mark Todd, who looks like top-drawer company.
Anyway, rowing's hot. Don't ask me why anyone would want to spend their every waking hour going backwards in a boat, but it's hot nevertheless.
Also on the telly is a show hosted by two chaps who rowed across the Atlantic. In First Crossings, Kevin Biggar and Jamie Fitzgerald, who seem like decent and excitable fellows and who are patently suckers for more punishment, recreate - down to the clothing and supplies (four hens, a few scones, no trail mix) - the adventures and travails of New Zealand's early explorers. So if the early explorers wore woollen trousers, which of course they did, Kevin and Jamie wear woollen trousers. Ditto funny hats. So, oddly, there seemed to be some surprise over the fact that there was "no Gore-Tex ... There's no graphite." I had no idea what they were talking about.
This is miserable stuff. We didn't need to be told this, but we were: "this is miserable." Yeah, well, you tend to get that with the great outdoors, in my opinion, without graphite and with caves of ice, sheer vertical slabs of rock, flooded rivers and so on. But it is magical too. Following in the footsteps of the first crossing of Fiordland's Darran mountains to Milford by William Grave and Arthur Talbot, "mild-mannered schoolteacher during the year; exploring superheroes" in their hols, they fought their way through a topsy-turvy forest where the trees had been thrown aside by an avalanche and had gone on growing - sideways. How strange and wonderful. Hell to struggle through in your woollen trousers, of course but amazing to watch for the winner of the bronze medal (since awarded elsewhere due to the aforementioned cheating but you don't see me blubbing and carrying on, now do you?) in the Olympic couch watching event. This too, is competitive sport of a sort, but as there were no medal ceremonies at the end, I rather enjoyed it. As for the get-ups, they were no odder than the ones those female gymnasts wear.
What a very odd image they present: All glittery hair and eyeliner, garishly glittering beauty pageant-inspired leotards accessorised with seriously frightening-looking bandages, straps and struts. On serious and seriously fit athletes.
Is this a sexy look? Even old Boris, with his lecherous appreciation of the women beach volleyball players, "glistening like otters", might have a job explaining why.
- TimeOut