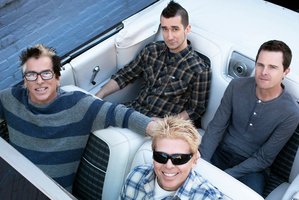 No one wants The Offspring to go reggae. And there would be few fans who want to hear the pop-punk act's frontman Dexter Holland attempting to rap. But that's what the Californian quartet deliver on Days Go By, their ninth album from a career now into its fourth decade.
Holland and co are obviously keen to extend themselves, but miss the mark by miles, thanks to tracks like OC Guns, an unlistenable mess of Mexican lyrics and faux reggae, and the comical surf-rock of I Wanna Secret Family (With You). It doesn't help that the title track borrows shamelessly from the Foo Fighters' Times Like These.
But Days Go By reaches its nadir on Cruising California (Bumpin' in my Trunk), a track so stupid - sample lyric: "She's waving her caboose at you, you sneeze, achoo" - Fergie would have turned it down for being too inane. It's a crying shame, because at times Days Go By recalls the angsty grunt of Offspring's best album, 1994's Smash, with the back-to-basics garage rock of Hurting as One, a re-worked Dirty Magic and the rollicking Dividing By Zero rolling by like they never left the 90s.
Best of all is All I Have Left Is You, a power ballad that morphs into a widescreen rock epic and suggests the Offspring have more to give.
Stick to your knitting, boys, and leave the reggae jokes to Flight of the Conchords.
Stars: 2/5
Verdict: Leave the jokes to the experts, lads
- TimeOut