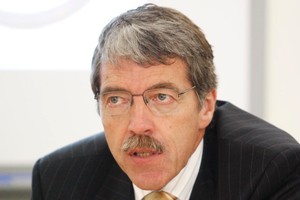 Bosses of partly privatised state-owned enterprises can expect a boost in pay if asset sales go ahead.
The top paid SOE power company chief gets $1.3 million a year - well short of the $1.72 millon the head of the country's biggest listed energy company, Contact, got in the 2009-2010 year.
If re-elected, National plans to sell 49 per cent of Meridian Energy, Mighty River Power, Genesis Energy and coal miner Solid Energy. The taxpayer stake in Air New Zealand would also be reduced from 75 per cent.
The sales would happen over three to five years, starting next year, depending on market conditions and the Government is expected to reap between $5 billion and $7 billion.
Jarrod Moyle, managing director of remuneration specialists Moyle Consulting said pay packages would increase.
"The regulations and requirements of a listed company are certainly more complex than for an SOE where you've just got a single shareholder," he said.
"In the remuneration market there is a distinction between what an SOE and what a listed company chief executive would be paid even if it is the same size. But it's probably not likely to see an increase in the base component but larger incentive component."
The boards of these companies would probably benchmark themselves against Australian companies.
"Australian companies are likely to have a larger short- and long-term incentive component. That's where the distinction is likely to occur."
Moyle said he could not estimate percentages but there would be an increase.
"They have to be earned and meet performance criteria in order for them to be paid. You could say the job is going to get tougher."
Moyle said there would be international competition for the top jobs.
"At the very top level skills are very transferable between companies. Boards will certainly be looking at energy companies in Australia and further afield."
Meridian Energy, the biggest of the power companies, is already searching for a new chief executive to replace Tim Lusk, whose pay last year was believed to be $860,000. Genesis Energy's Albert Brantley is believed to have been paid $980,000 and Mighty River Power chief Doug Heffernan topped the SOE table on $1.317 million. Solid Energy's chief executive Don Elder was paid $1.274 million.
WHAT THEY'RE WORTH
Equity value, Oct 2010 (Macquarie research)
* Meridian Energy - Up to $6.2b
* Mighty River Power - $3.3b
* Genesis Energy - $1.8b
Listed rivals (market cap)
* Contact Energy - $3.9b
* TrustPower - $2.3b