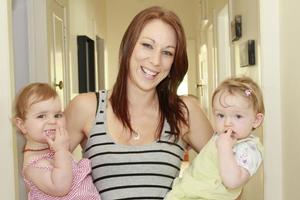 Nannies are employed in a child's home; in-home educators take children into their homes during the day. The number of nannies and in-home educators varies across the country, with Auckland having the highest percentage of nannies.
The National Certificate in Early Childhood Education and Care offered by PORSE helps nannies and in-home educators learn the introductory skills and knowledge of early childhood education and care required to care for young children.
Approximately 250 students enrol each year, ranging from school leavers to grandmothers. About 25 per cent are caring for their own children; the others are focused on an early childhood education career.
The NZQA-approved certificate is 19 weeks long and requires 12 to 22 hours of study per week, depending on the student's experience and background.
The 19 unit standards cover a variety of learning activities and readings, including Te Whaariki: He Whaariki Matauranga mo nga Mokopuna o Aotearoa (New Zealand's early childhood curriculum).
Content includes child development, participating in play, communicating with young children, providing a safe environment and hygiene and age-related nutritional needs.
The focus is on learning by doing. As well as doing assessments, students keep a child programme journal of their workplace experiences.
All students are allocated a qualified programme tutor to mentor them through their study and beyond. As well as phone calls and emails, tutors do day visits and observations.
If living near a PORSE area office, students can participate in playschool tutorials and weekly evening study groups. However, the certificate is a stand-alone distance learning course so students must be able to study independently.
GRADUATE
Fran Vujcich
* 23
* PORSE Nanny
* Completed certificate October 2008
I've been with the Hastie family since October. I work Monday to Friday from 7.45am to 5.30pm. I started nannying Stella when she was 9 months old. Havana has since joined us, too.
I've been nannying for about three years. I started with two families, who wanted a nanny on different days of the week, and then I nannied one child full time. I came here when she started school.
I particularly like this job, because it is very child-based. In my last job I was also cleaning and doing meals for the adults. Here my focus is solely on the girls. I clean and cook for them, but we spend lots of time playing or going to music groups, PORSE play groups, the park, that kind of thing. I keep a daily journal and a scrap book for the parents. PORSE supplies the books and gives ideas on how to do them.
I originally started vet nurse training but realised it wasn't quite me. A friend was nannying and after visiting her a couple of times, I decided to nanny. I particularly enjoy working with littlies. Babies are fun and quick to respond; I just love their innocence.
I started the certificate to get a qualification. It took four to five months and I really enjoyed it. I'd spend a couple of hours a day on study. A lot was about observing the children's play and your interactions with them. I liked learning things I could put into action or observe or watch out for. The course also helped me keep focused on the children's needs, not mine. Assessment requires a lot of reflection about what you're doing and why. There are a lot of those "if this happens what would you do?" questions. When questions were hard to understand, I'd ring my programme tutor, who'd talk me through it. She still visits every month. She tries to come when the children are awake so she can observe and offer ideas.
It is a correspondence course, which suited me really well. PORSE also offers weekly evening study sessions but I played sport on that night.
But when I met up with nannies at PORSE playgroup we'd often talk about the assessments so I never felt isolated.
I've now completed the babycare course, which follows the certificate. I want to get to professional status with PORSE and then do a degree in early childhood education or child psychology. That will definitely be my next step.
EMPLOYER
Toni Hastie
* Parent
I investigated two or three agencies, particularly their philosophies about children and play. I really liked PORSE's emphasis on the simple things and their strong child focus. I was also impressed with getting monthly visits by programme tutors. I interviewed about eight nannies before I chose Fran. When Fran walked in, I knew instantly she was right. Stella loved her immediately. She showed a genuine passion for children and was vibrant and bubbly. She is really creative; her books of the children are wonderful.
We originally hired Fran for Stella but we were keen to do a nanny share to provide a playmate for Stella and - well, it is a huge financial outlay for one family. I knew Marika, Havana's mum, had similar ideas about child care, so I approached her. The girls are a similar age so it is a great scenario. The qualification shows Fran's passion about helping the girls grow and about her own learning. It gave her fresh ideas, confidence in different approaches and good advice on fleshing out her own ideas. We feel she uses that knowledge all the time.
When you are entrusting a person with your precious baby, it is wonderful to come home and see your child has had the best of days.
TRAINING PLACE
Qualification: National Certificate in Early Childhood Education & Care (Level 3) Version 3
Where: PORSE Early Childhood Education Training NZ Contact: 0800 023 456
Level3@porse.co.nz
www.PORSE.co.nz
Entry Requirements: Working (paid or unpaid) in home or child care setting with at least one child under 5 years for minimum of 15 hours per week.
Over 16 years, New Zealand citizen or permanent resident, police and reference checks.
Course costs: $295, plus $25 administration fee.
Hourly rate: Nanny: $17-$22 per hour, depending on qualifications and experience, number of children and other factors.
In-home educator: $7-$12 per child: allowed up to four children in one home.
Enrolment deadlines: Ongoing.
PORSE locations: regional office locations listed on website.