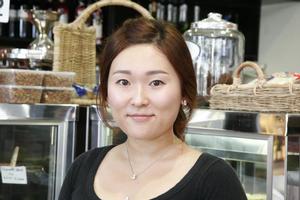 Espresso making is an art that also involves science, says Nadine Rathgeber, Ask Me 4 Coffee mobile barista training specialist.
Up to 75 per cent of good espresso making depends on the barista's skills and knowledge. The rest is bean quality, roast and blend and equipment and maintenance.
Nadine says a perfect espresso can only be extracted when the barista is aware of all the variables that can stop or alter that perfect extraction.
Variables include the coffee not being ground to the correct size, heat of water, dosage, compaction and type of equipment.
"The grind is your most important variable. Coffee is hygroscopic and reacts to the atmosphere, meaning it will alter its absorption of water due to factors such as humidity."
Nadine runs barista courses, including the NZQA accredited HSI Barista Certificate of Achievement, for both people not working as baristas and for baristas without qualifications. If employed as a barista you can opt to do the theory component online through e-Blended Learning Solutions (e-BLS) - Barista Basics Online.
Ask Me 4 Coffee then delivers the practical and assessment in your workplace.
Nadine also delivers the HSI certificate through North Shore International Academy (NSIA). The certificate consists of five unit standards worth 12 credits. It involves 10 hours theory, 10 hours practical and 10 hours of self directed study. Trainees learn how to prepare all espresso beverages and set up and maintain equipment.
She encourages barista trainees into competitions to further their confidence, speed, quality and showmanship.
"It also helps them get jobs in respected busy cafes or eateries. Many cafe owners/managers are not willing to offer jobs to new baristas with little work experience or to invest in further training. Training is still often seen as an expense rather than an investment here."
THE GRADUATE
Elly (Kwi Jung) Park, 23
* Cafe manager for Sticky Fingers Cafe and Deli, Albany
* Hourly rates: Barista: $14 to $18 per hour. Cafe manager: $15 to $20 per hour
I am the cafe manager for Sticky Fingers Cafe and Deli. I'd eventually like to own my own place.
I came to New Zealand from Korea three and a half years ago. I studied English at Language International for five months, did three months of business studies and IELTS and then decided to do the NSIA Professional Hospitality Academy Diploma in Hospitality Management. I was interested in hospitality management because I love meeting people and keeping active. The diploma was very practical and I really enjoyed it.
Nadine from Ask Me 4 Coffee taught the barista section of the hospitality management course. We started by learning about where coffee came from and how the coffee machine and grinder works and then we started making coffee.
Nadine demonstrated one on one, then explained what we were doing wrong and we kept making coffee until we got it right.
Nadine has lots of knowledge about coffee and baristas and she is also a very good teacher. Not only could she see what I was doing wrong but she could always explain how to fix it in a way that I understood. She explains things well.
I trained for the National Culinary Fare barista competition with Nadine and I got gold in the junior competition in 2008 and bronze in the open competition last year.
Nadine also helped me get a job at Altura Cafe, where I got much faster and consistent because it was very busy and the barista trainer tested our coffees every day. I worked at Altura 10 months part-time, then went fulltime there for nine months before coming here in September to be cafe manager. There are three baristas here, including me.
To make good coffee you need to understand the principles of coffee making, including how the machine and grinder works. The biggest challenge is making the perfect coffee for each customer. It is easier with regular customers because you learn to make it exactly as they like it. Another challenge is the coffee grind. The more humidity, the more the grind absorbs water. To stop this, I need to adjust the grind size to a coarser consistency. I have to watch this closely.
I love creating new patterns on my coffee. This is done by moving the milk jug in a certain way when pouring.
THE EMPLOYER
Damian Stephen
* Sticky Fingers Cafe and Deli owner
I employed Elly because she is a good barista; she came third last year in the national barista championships and had a client base that followed her here. She has passion and drive and an excellent understanding of coffee and of customer service.
She is very obliging to customers, which is very important. It is very hard to get obliging staff.
Elly has good management skills, is very organised and happy to work hospitality hours. A lot of people don't want to work weekends, but she is happy to do so and is very reliable.
As well as speed and consistency, a good barista needs to know the difference between a good and bad coffee. Elly will never send out a coffee she isn't happy with.
I think the course gave her a solid understanding of how to make great coffee.
A good trainer can explain that to others, as well as make good coffee themselves. But no matter how good the course, you can't immediately presume you can get a job in a busy cafe making perfect coffee without experience and practice. You have to build up.
A lot of people returning from overseas comment on how much better coffee is in New Zealand. People here seem driven to produce high quality good coffee.
I believe we have the most coffee roasters per capita in the world.
TRAINING PLACE
Qualification: HSI Barista Certificate of Achievement
Where: Ask Me 4 Coffee
Contact: (09) 529 2409 or 021 111 3211
www.barista-training.co.nz (email contact on website)
Entry Requirements:None, except English second language speakers need IELTS 5.0 (or equivalent)
Course Costs: $430 - $495 depending on course (includes equipment, coffee etc)