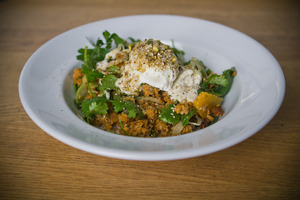 Kokako is running a coffee brew bar and espresso bar at the Sustainable City Showcase, on from October 17-19. Staff will be highlighting specific coffee origins and will also be offering their cold brew coffee. It's a pretty exciting product - the coffee is soft brewed for 8 hours in cold filtered water to create a naturally sweet and chocolatey beverage with 67% less acidity than a standard espresso.
Kokako will be collaborating with All Good, Nice Blocks and Cosset to have a really interesting selection of Fairtrade and Organic treats for visitors to try.
Hear the man behind the Kokako brand, Mike Murphy, talk sustainability with Ben Gleisner of Conscious Consumers on Saturday at 11.50am.
And courtesy of Kokako Cafe, Auckland, here's The Morrocan: Spiced felafel patties served with mixed herb, orange, shaved fennel and smokey croutons. Served with a garlic tahini yoghurt, poached egg and dukka.
Falafel Pattie (serves 4 people)
300g cooked chickpeas
40g parsley (chopped)
30g coriander (chopped)
5g cumin seeds
5g coriander seeds (toasted and ground)
35g sesame seeds (toasted and ground)
1 tsp chilli powder
25ml tahini
10g smoked paprika
100g onion
20g garlic
1 orange (zest and juice)
1 table spoon baking powder
50g chickpea flour
50gpumpkin seeds
1 teaspoon salt
5g pepper
75ml olive oil
METHOD:
1. Soak chickpeas over night. Rinse them the next day and cook for 40 until tender. Drain and cool.
2. Sweat diced onion and garlic in some olive oil and combine with chick peas
3. Toast cumin and coriander seeds together and toast on a medium heat on the stove top.
4. Cool and grind or alternatively use pre ground spices.
5. Combine all the rest of the ingredients and blend so that a few chunks still remain
6. Recheck seasoning and form into patties (approximately 100g each)
7. Preheat oven to 200 degrees fan bake.
8. Heat 75ml olive oil in a large frying and brown both sides. Place on a roasting tray and continue baking for a further 10mins flipping after the first 5min.
9. Remove and place on paper towel to soak off excess oil.
Tahini dressing
200ml Natural unsweetened yoghurt
20ml tahini
2 cloves minced garlic
1lemon zest and juice
Salt and pepper to taste
METHOD:
Combine and whisk together ingredients.
Smoked paprika croutons
3 pieces of whole grain bread
20ml olive oil
1 teaspoon smoke paprika
Salt and pepper
METHOD:
Cut bread into 1/2cm cubes and season with all ingredients. Bake in oven at 200 degress for 5-7 minutes until golden brown.
DUKKA:
40g sesame seeds
5g cumin seeds (toasted and ground)
5g coriander seeds(toasted and ground)
40g hazel nuts
50g pistachio nuts
Salt and pepper
METHOD:
1. Combine and roast all ingredients in an oven at 200 degrees for 15mins. STIR EVERY FIVE MINUTES!
2. Allow to cool and blend or crush in a mortar and pestle.
SALAD COMPONENTS:
Warmed felafel Patties
2 oranges, segmented
1 fennel bulb (shaved as fine as possible)
1 bunch of mint leaves picked
1 bunch of Italian parsley leaves picked
1 bunch of coriander leaves picked
2 spring onions sliced
smoked paprika croutons
4 poached eggs
Dukka for sprinkling on top of salad
Garlic yoghurt for sauce
TO SERVE:
1. Combine all herbs with orange, shaved fennel, and croutons and lightly drizzle with olive oil and season with salt and pepper.
2. Place warmed pattie on plate with the salad above and top pattie with a poached egg.
3. Drizzle with yoghurt dressing and sprinkle with dukka.
4. Enjoy with a cool apple cider!!
PHOTO: Timmy Shivers