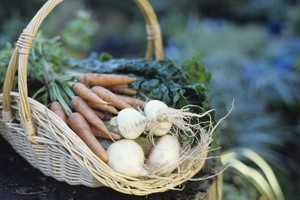 Simplistic organic study ignores the big picture (and uses crappy maths), say critics.
When doctors from Stanford University released their findings on the health benefits of organic food vs non-organic food last month, it was reported around the world.
Variations rarely deviated from the headline of the original Stanford press release: 'Little evidence of health benefits from organic foods'. Given the study also found that humans eating non-organic foods have an 81% higher chance of encountering pesticides, and run the risk of that food being 33% more resistant to multiple antibiotics, the headlines could just as easily have proclaimed: 'Non-organic food more dangerous', just as this one does.
Jim Riddle, organic outreach coordinator for the University of Minnesota, and co-author of the International Organic Inspection Manual, penned an eloquent response to the study, including a critique of the 'simplistic' mathematics.
"The Stanford team found that non-organic foods are likely to contain pesticide residues 37% of the time and organic foods 7% of the time. Given those percentages, then the risk of exposure to pesticides increases by 81%, when someone chooses to consume nonorganic vs organic foods. The risk of exposure to pesticide residues increases by 81%, not 30% [the figure cited in the Stanford study]," he said.
"Further, the Stanford team did not account for synergistic effects of multiple pesticide residues commonly found in non-organic foods, even though United States Department of Agriculture pesticide detection data confirms that non-organic foods consistently are contaminated with multiple pesticides, whereas organic food are often free of pesticide residues. When residues occur in organic foods, they are typically for one compound, rather than multiple compounds," said Riddle.
The Soil and Health Association of NZ (SHANZ) took the pesticides argument further, saying that the study failed to consider that organics have no additives which have proven health risks. "These include GMOs, aspartame, fillers, high fructose corn syrup, trans-fats and BPAs. Seventy-five per cent of all GE crops are engineered to tolerate herbicide... linked to DNA damage, infertility, cancer and over 29 other diseases and despite the studies suggestion that pesticide residue in conventional crops is within safety limits there is no such thing," said Debbie Swanwick, spokesperson for Soil & Health.
"Pregnant women and foetuses have been harmed by low-level exposure to organophosphate pesticides," she continued.
Charles Benbrook, a research professor at Washington State University, also said the metrics used in the study were unusual, unfamiliar and inconsistent with his own findings.
"The study also suggested that it was only 33% more likely that antibiotic-resistant bacteria would be present in conventionally raised pork and chicken versus organic alternatives. Eighty percent of all the world's antibiotics are given to animals," said Benbrook. Antibiotic use is prohibited in organic production.
The other argument for organics is not necessarily for human health, but the health of the environment. SHANZ says that organic food production reduces pollutants, encourages the preservation of heritage seed crops and increases the protection of biodiversity. Bee populations in the US and UK have declined by as much as 50% in the past 25 years due to pesticide use which has impacted their navigation abilities - recently corroborated by two studies by researchers from the French National institute for Agricultural Research and the Universities of Lancaster and Stirling. Two thirds of New Zealand food production relies on bees to pollinate plants, yet the neonicotinoid pesticides causing the problem are still legally able to be used here.
Riddle went on to point out that the Stanford study made no mention of the effects of non-organic production on ground water; genetic engineering; livestock growth hormones; artificial flavours and colours; soil health; biologic and genetic diversity; carbon sequestration and climate change; energy use; economic vitality; and food security.