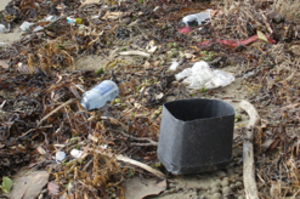 The Chairman of Auckland Council Organisation, Waterfront Auckland has praised the milestone reached by the Watercare Harbour Cleanup Trust this week that after 10 years they have removed more than three million litres of rubbish from the waterways of the Waitemata, including the streams and the Whau Creek and the Whau River.
Chairman Bob Harvey says: "This is an amazing target to reach for any world city and as each litre contains approximately eight pieces of rubbish, it shows Auckland needs to radically rethink our disposal and recycling targets."
The team, including Captain Ben Harris and crew member Hayden Smith have headed out on their boat, the Phil Warren, most days for the last 10 years, picking up rubbish with the help of volunteers, school children and their own dedication.
Mr. Harvey says it is an amazing achievement and praised their initiative and acknowledged the Watercare sponsorship of this project.
"It's no mean feat pulling from our harbour every floating bottle and plastic bag and to also clean the islands of the Hauraki Gulf but these guys have done an extraordinary job."
"The rubbish is weighed and a careful tally is kept, so it is an accurate figure and the three million litres of rubbish would see more than 20 containers stacked high and there is much more out there for the boys to pick up."
"It's a daunting task" says Harvey, "and this target is something to be really proud of."
Waterfront Auckland is the planning and design division charged with the delivery of the waterfront masterplan on behalf of Council. Sustainability is a key tenet within the plan with a goal being a Blue Green waterfront as Harvey explains:
"From green infrastructure, social infrastructure, diversity of residents and businesses and housing affordability to the more technical dimensions such as energy use, resource efficiency, water management and building quality there's so much we want to achieve in the sustainability space on the waterfront."
"And whilst many of the projects in the newly developed areas, such as Wynyard Quarter, have already included environmental sustainability measures, the drive and dedication shown by the harbour cleanup guys is testament to what can be achieved if we put our minds to it."