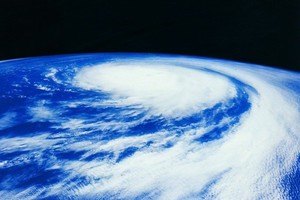 Speaking from the United States, climatologist and US-based New Zealand academic Dr Kevin Trenberth said that global warming has contributed to the warming of the sea surface temperatures along the Atlantic coast which has an effect extending some 800 km off shore from Canada to Florida. "With every degree C [increase]," he said, "the water holding of the atmosphere goes up 7%, and the moisture provides fuel for the tropical storm, increases its intensity, and magnifies the rainfall by double that amount compared with normal conditions."
"Natural variability and weather has provided the perhaps optimal conditions of a hurricane running into extra-tropical conditions to make for a huge intense storm, enhanced by global warming influences".
Dr Jim Salinger, visiting Professor at Stanford University, California said the impacts of global warming mean that these kinds of extreme weather events could be more prevalent. "Sandy is striking a populace of 60 million and impacts will be massive.
Global warming puts more energy in to storms, loading them with extra rainfall making flooding more likely. Storm surge now rides on sea levels that have risen over the last century due to global warming, amplifying flooding losses where the surge strikes. Climate change has stacked the deck of cards, making super storms of this kind more likely to occur."
In a study published in July this year from the National Ocean and Atmospheric Administration (NOAA) and UK's national weather service, Met Office, showed an unequivocal link between extreme weather events and climate change. The report, entitled 'Explaining Extreme Events of 2011 from a Climate Perspective' shows how global warming played a major role in six extreme climate events from 2011 including droughts in East Africa, and warmer autumns and coolers winters in the UK.
The study likened the effects of human induced climate change on extreme weather events to a cricket player on steroids who can smash home an average 20% more sixes in a season.
The study also asserts that it is now possible, but challenging, for scientists can to attribute single extreme weather events to human-induced global warming. "In the past it was often stated that it simply was not possible to make an attribution statement about an individual weather or climate event. However, scientific thinking on this issue has moved on and now it is widely accepted that attribution statements about individual weather or climate events are possible, provided proper account is taken of the probabilistic nature of attribution"
Another study published in PNAS in August 2012 by a group of scientists including leading climatologist and NASA scientist, Dr James Hansen, also showed that anthropogenic global warming was able to be linked to extreme weather events. "We can state, with a high degree of confidence, that extreme
anomalies such as those in Texas and Oklahoma in 2011 and Moscow in 2010 were a consequence of global warming because their likelihood in the absence of global warming was exceedingly small".
According to the IPCC's 2007 report global average temperatures are increasing, glaciers and snow cover are declining, sea levels are rising and the rate of rising was the fastest over the last twenty years.