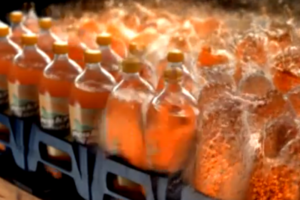 Soda Stream's controversial add which targets 'big soda' companies has been banned in the UK.
The ad, which was banned for "denigration of the bottled drinks market", confronts waste and sustainability issues within the industry and will be aired in the lead up to Christmas in New Zealand.
Soda Stream allows consumers to turn tap water to soft drinks at home without excess packaging and sugar.
"New Zealanders are quickly realising the real harm that pre-packaged, high
sugar soft drinks are causing to our society as our obesity rates continue to be
among the highest in the world," says Chris Bremner, Marketing Manager of SodaStream New Zealand.
"Also, the damage that plastic bottles and cans are causing to our environment is simply unacceptable and we encourage Kiwis to ask themselves: 'do I really want to have my name on a bottle which will pollute our environment for the next 450 years?'"
Here's the video for your viewing pleasure: http://www.youtube.com/watch?feature=player_embedded&v=tE9U4mMqKP4