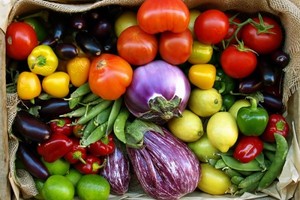 Get your hat, sunglasses and sunblock ready. We are now in the hottest months of summer. With adequate water, growth in the garden can be rapid and verdant. Your garden may even be choc-a-bloc with growing plants. Be careful you don't plant too much of one vegetable or else you will be looking for new homes for them very soon.
Ripe for the picking
Asparagus continues along with broad beans, the first of the French beans, beetroot, broccoli and cauliflowers. For something different try some globe artichokes - anything soaked in garlic butter is yum!
Garden
Your beans, corn and tomatoes should be streaking ahead. It's a good idea to make small but constant plantings of these three. I plant a new couple of rows every 2-3 weeks so that we have a constant supply over the summer months.
Remember to pick out the lateral on your tomatoes. These are the new side shoots that grow between the main stem and the branch in the v shaped gap. If you pinch off any longer ones you can pop them in some potting mix in a container and they will grow a new baby tomato plant.
Something for nothing- I love it!
Your asparagus bed may be finished now. Let the fern-like branches develop, weed the area well and then mulch with seaweed or compost or poultry manure. You can sow beetroot seeds directly where you want to grow. This is actually best with all root vegetables as they don't like to be transplanted. Keep the area moist until they germinate. Keep up the irrigation and apply mulch to conserve water loss. I use soak hoses placed under the mulch.
Urban Orchard
Spray your apple trees for codling moth and pear, quine and plum trees will need to be sprayed to protect them from pear slug. Pyrthrum is an organic spray option. If you have lots of baby fruit developing on your trees it is a good idea to thin them. You can do this by hand ?by twisting off the smaller or damaged fruit, leaving the largest.
Herbs
A pungent, hairy-leaved, perennial which grows in a thick mound. The oil within its leaves is loved by cats. You can use the leaves for a mint flavoured tea and as a poultice for cuts and bruises. Grow in full sun in free draining soil.
Common Mallow
This herb grows as a weed in my garden. Its leaves are hairy, crinkled and deeply veined. The flowers are pink, white or mauve. The leaves can be used to reduce inflammations and to ease bee stings. It grows in full sun in normal garden soil.
Urban Livestock
Chooks
You may have hatched some baby chicks in spring and now have some teenage chooks and are wondering which are boys and which are the girls. This is hard until they get their adult plumage and are around 2-3 months old. One of the only failsafe ways is if it starts to crow it is a boy! These are some of the ways I try and guess. The males will have a larger tail, often with a green tail feather. The males will be bigger and their combs may be bigger. If you startle them the males will often stand tall on their legs while the hens will crouch down.
The Broiler
These birds generally have yellow coloured skin and white feathers. They are often known as Ross Cobs or Cornish. This is a hybrid breed which has been specifically created as a meat chicken. They are fast growing and have thick legs to support their weight. They are not very active preferring to sit and eat.
ECO-TIP
Don't use the catcher on your lawn mower for summer. The lawn clippings will mulch the lawn and help to feed the grass ?and conserve moisture.