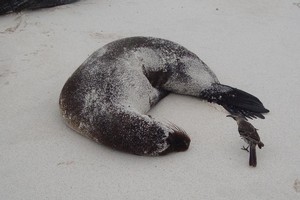 A New Zealand scientist is at the forefront of a programme to save a species of bird that inspired Charles Darwin.
When the Origin of Species author visited Ecuador's Galapagos Islands in 1835, he noticed the native mockingbirds differed from island to island.
His observations of the Floreana mockingbird, a largish, brown bird with a long tail and melodious song, underpinned one of the central theses of the book - that species could adjust to survive in a new environment.
The birds are extinct on their home island, Floreana, and with only a couple of hundred surviving on satellite islets Champion and Gardner-by-Floreana, the species known as Darwin's muse could soon be lost.
The task of saving the mockingbirds has been put in the trembling but experienced hands of a New Zealand-trained biologist, 32-year-old Luis Ortiz-Catedral.
"I am feeling the pressure a little," the Massey University PhD student said.
"It's a very humbling experience to work with birds that have such a huge symbolic relevance for biologists and also human history, and to be brought in as an outsider to this project."
The Charles Darwin Foundation considered his fieldwork in New Zealand the ideal prerequisite for helping the Floreana birds to become self-sustainable.
Nearly four years ago, the Mexican-born conservationist began a hugely ambitious project, moving 124 native parrots, kakariki, in helicopter transfers over three years from the Hauraki Gulf's Little Barrier Island to nearby Motuihe Island and Tawharanui Regional Park north of Auckland.
Although the project is proving successful, he will have to work much more carefully with the mockingbirds in the Galapagos.
Mr Ortiz-Catedral will spend at least a month observing - or in his words, "falling in love" - with the mockingbirds, aiming to learn their habitat, behaviour, and breeding. "With such an endangered bird we don't have much leeway to muck around, so we have to be very well planned. We need healthy, strong individuals that will survive the move."
His team of three of four will then have to finely tune several factors - feed, season, and the type of transporting aviary - in order to cause the birds the least stress possible. If the birds are moved too quickly to their new, as-yet-unknown habitat, they may "freak out".
If moved too slowly, they may become too familiar and dependent on humans.
Despite painstaking care in moving the kakariki after catching them in extremely fine "mist nets", nine of the birds died, a loss which he may not be able to afford in the Galapagos Islands.
He faces other obstacles. Unlike the parakeets he knows so well, the mockingbirds breed in groups, with "helpers" working with each male and female to produce offspring.
"This is another subtlety to be resolved in the next few months. We need to know how many birds will need to travel together, and how well they will react to strangers."
His fluent Spanish will help him to work closely with the local population of 100, who take great pride in their native species.
Mr Ortiz-Catedral's wide-eyed passion for biology is lifelong. He chose his vocation from the moment he was old enough to capture budgies, cockatiels, turtles, and fish, and take them back to his Guadalajara home.
He remains unashamedly romantic about his work, and looks forward to giving up regular electricity, running water and internet connection for a humble home nestled amongst the dry shrubland of the islets.
Mr Ortiz-Catedral had only one hesitation in taking on the project.
"One of my first questions in the interview was whether they had coffee [on the islets]. I have a bit of a soft spot. But it turns out, I think, that they grow it there. Organic, certified coffee. I couldn't ask for more."