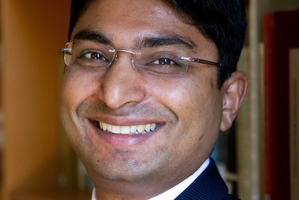 The New Zealand Institute of Economic Research's quarterly survey of business opinion has found the sector in good heart and evidence of a recovery that is becoming broader-based.
Firms' expectations of their own activity over the next three months (a net 23 per cent positive, up from a net 19 per cent in the June survey) are at a 10-year high. And their experience of activity in the past three months, which had dipped in the previous survey, has rebounded to a net 11 per cent positive. That is in line with the long-term average for that indicator.
It is consistent with an economy expanding at an annual pace of around 3 per cent, NZIER principal economist Shamubeel Eaqub says.
Trading activity is gaining momentum outside Canterbury - with a net 12 per cent of firms reporting a pick-up, compared with a net 6 per cent in June - and while it has eased in Canterbury it remains strong, with a net 21 per cent reporting growth, against a net 25 per cent in June.
Firms' views of the general business situation remain optimistic with a net 32 per cent expecting improvement, against a net 30 per cent in June.
But it is cautious optimism.
The survey continues to record gaps, across a range of indicators, between what respondents expected to do or see happen three months ago and what they say they experienced over the past three months.
For example, a net 9 per cent of firms in the June survey expected to have increased staff numbers by now; only a net 1 per cent report they have.
A net 10 per cent expected to increase investment; a net 3 per cent did so.
Even so, levels for these indicators remain significantly above their long-term averages and the divergence between expected and experienced responses is growing narrower, according to Eaqub.
The survey's indicators of activity, employment and profitability are consistently trending higher, he says.
And while spare capacity is declining, indicators of cost pressure and pricing intentions remain subdued by historical standards.
"We are seeing a very gradual and well-behaved recovery, soaking up spare capacity but not too fast."
Firms are finding it harder to recruit labour, both skilled and unskilled.
"However most of the pressures are in Canterbury."
Manufacturers report an increase in output, albeit fewer than in the June survey, with domestic sales steady while exports improved. Builders report a slowdown in employment and new orders.
"This is surprising, given a large pipeline of work in Canterbury and an improving outlook in other regions, especially Auckland," Eaqub says.
It is also at odds with the very optimistic responses from architects. Retailers were very optimistic about expected sales but "they are holding little inventory and making few orders overseas".