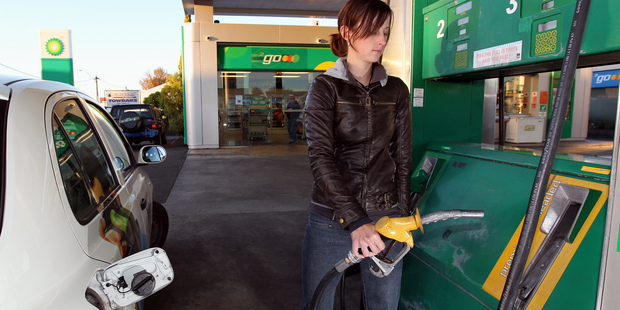 Petrol prices are heading down towards the $2 mark with BP announcing a 3c price cut today as international oil prices tumble.
BP said it was dropping the price of 91 unleaded to 204.9c a litre and diesel 2c a litre to 142.9c a litre.
The company said it was its sixth price decrease in the last month.
However, the AA said if petrol prices matched the fall in oil prices unleaded could already be under $2, where they were nine months ago.
"There's every chance we could get prices down under $2 in the next days or weeks. Petrol prices are coming down thin and fast - they're coming down quickly but they're not enough. The AA's monitoring of commodity prices shows the fuel prices should fall another 4c to 5c a litre." said spokesman Mark Stockdale.
World oil prices have fallen US$10 (NZ$11.84) a barrel during the past two weeks while the Kiwi dollar has remained near post-float highs.
A dip overnight was due to a United States Energy Department report that suggested more drivers were staying home, giving them no reason to fill up their tanks.
Oil dropped $2.04, or 2.3 per cent, to close at US$86.68 a barrel in New York. In London, Brent crude, which is used to price oil used by many US refiners, dropped US$2.22, or 2.2 per cent, to US$97.69, the lowest level since last July.
Forecasts for global oil demand have fallen at a time of ample supplies with weak economic data from the United State, China and Europe.
United States demand for petrol during the four weeks ended April 12 was 3.3 per cent less than a year earlier, averaging 8.4 million barrels a day, according to the Energy Department, the lowest demand for the second week in April since 1997.
Tom Kloza, chief oil analyst at Gasbuddy.com. said it was a "serious slump."
Meanwhile, US petrol supplies are 3.6 per cent higher than they were a year ago, according to the Energy Department.
The surprise drop in petrol demand followed a series of weak economic reports around the world, starting with a disappointing US employment report two weeks ago. This week, a report of slower-than-expected economic growth in China helped trigger a broad sell-off in commodities that included the biggest one-day drop in the price of gold in 30 years.
A BP spokesman in this country said "classic economic fundamentals" were kicking in.
- with AP