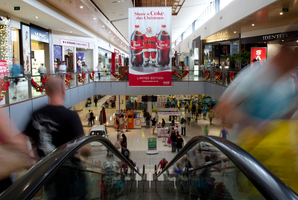 Retail sales charged to electronic cards rose 0.3 per cent last month, adjusted for seasonal effects, continuing a trend of slow but steady increases in consumer spending.
Core retail sales, which exclude petrol stations and car yards, rose 0.5 per cent, on top of a 1.1 per cent rise in November.
For the December quarter, retail sales paid for with electronic cards rose 1.4 per cent from the September quarter, and by 1.1 per cent when the automotive sector is excluded.
Three-quarters of the quarterly increase was in spending on durable goods (excluding cars).
Infometrics economist Matt Nolan said the increase in spending on durables in the quarter occurred even as prices were held down by the very high New Zealand dollar, indicating that the volume of sales had been rising sharply.
It was consistent with the lift in house sales over recent months, he said.
When people moved house they often used it as an opportunity to replace furniture and appliances.
By contrast, spending on consumables such as groceries and pharmaceuticals increased only 0.1 per cent in the quarter.
"It appears that, with job security still low, households have been limiting spending in other areas to fund their increase in spending on durable products," Nolan said.
"We expect the overall trend of rising durable good spending, and restrained expenditure on other goods, to continue during the next year as the unemployment rate stays stubbornly high."
The only category to record a drop in sales last month was automotive fuels, down 3.5 per cent on November but still 5.9 per cent higher than in December 2011.
Core retail sales were up 4.8 per cent on December 2011.
Statistics New Zealand says electronic card transactions data - covering credit, debit and charge cards - capture just under two-thirds of retail spending.
ASB economist Daniel Smith noted, however, that last year the cards data consistently pointed to stronger retail activity and consumption than the quarterly retail trade surveys or national accounts subsequently did. December's increase continued a trend of slow but steady increases in spending seen over most of last year..
"A trend of gradually improving retail spending poses little concern to the Reserve Bank's inflation outlook, and consumer spending for now remains constrained by high levels of household debt and a somewhat soft labour market."
The Westpac McDermott Miller employment confidence survey, also released yesterday, while fractionally better than in the September quarter, remained at a level indicating more pessimism than optimism. In particular, people's assessment of their own job security slipped back to the low levels seen earlier last year, Westpac economist Felix Delbruck said.