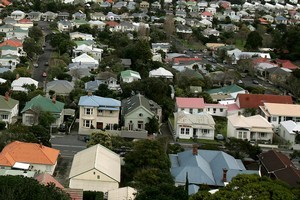 House values in central Auckland have topped the previous peak in 2007 because of strong demand for character homes and properties in good school zones.
Auckland is also deemed a safe place to invest.
The figures are so high they have pushed the national average up, despite values dropping throughout the rest of the country.
Figures issued yesterday by Quotable Value showed central Auckland's property values surpassing the 2007 peak as buyers scrambled for scarce homes in prime neighbourhoods.
Auckland City values are now 0.7 per cent above the previous market peak in October 2007 - but experts warn the increase is unlikely to last.
QV's residential price index is calculated from sales figures but it is not the same as the average price, which fluctuates with the mix of houses in upper and lower price brackets.
QV research director Jonno Ingerson said there was a strong demand for homes in established character locations and good school zones.
An Epsom house valued at $1 million had sold for $1.73 million because it was in the zone for Auckland Grammar and Epsom Girls' Grammar.
Mr Ingerson said nationwide values increased in June to just 5.2 per cent below the 2007 peak.
"Much of the gain in nationwide values can be attributed to increases in the Auckland area. Apart from a minor hiccup in March, values have increased by more than 2 per cent in Greater Auckland since January."
Ray White Epsom property agent Ivan Koulin said Mt Eden, Remuera and Ponsonby were strong.
A one-bedroom Epsom unit, sold by his branch in the past month, fetched $323,000 after a week on the market, about 15 per cent up on the $279,000 it fetched two and a half years ago.
In Greater Auckland, values are 1.4 per cent above last year and only 1 per cent below the peak in late 2007.
Values in Hamilton and Tauranga have levelled off in recent months. Hamilton is 3.6 per cent down on last year and Tauranga 1.8 per cent down.
Wellington is down more than 1 per cent since January and 3.3 per cent below the same time last year.
The nationwide three-monthly average still rose 2 per cent compared to last month's figures.
Property Investors Federation president Andrew King said Auckland's population was rising during a housing shortage, but sellers returning to the market could hold back the rising prices.
"It's not a certain sign that this is going to carry on. There's a lot of people who would have looked to have sold a property but couldn't.
"The number of listings was relatively slow as well," he said.
"Demand for property in Auckland has certainly been increasing ... but supply could definitely increase to cover the demand."
Mr King said a capital gains tax - as proposed by the Labour Party - might not push up prices, as rental property owners could decide against selling.
Barfoot & Thompson managing director Peter Thompson said prices were merely holding their own, rather than going up markedly.
"We have certainly seen an increase in the number of sales in comparison to the same period last year. But not huge amounts."
Inner-city suburbs were performing well mostly because of a lack of listings, Mr Thompson said.
The struggling economy was also affecting the market.
"People are a little bit more conscious of paying off their debts. They're paying off their mortgages, any bank loans, cars."
Mr Thompson said there had been a noticeable influx of people moving from Christchurch to Auckland after the earthquakes.
A report by the Economist magazine says New Zealand's house prices are more than 17 per cent overvalued when compared to rent.
The magazine compared the long-run average ratio of house prices to rents to calculate the index, which shows Hong Kong with the most-overvalued houses at 63 per cent and Australia next at 50 per cent.
But overall, the study shows that the bubble of the 2000s has been a long time deflating.
Robert Shiller, one of the creators of the Case-Shiller index of the American housing market, said more hard times lay ahead.
Prices could slide another 10 to 25 per cent as the economy wrung out the excess supply of the bubble years.
Christchurch developer Hugh Pavletich said prices of land for housing were grossly over-inflated.
Mr Pavletich said that because local authorities were "starving land supply", city-fringe sections often cost $200,000 to $300,000 when a reasonable price would be $30,000 to $60,000.
"Thankfully, with the Christchurch earthquakes, it's certainly precipitating a serious response to opening up fringe land supply."
- additional reporting: Mathew Dearnaley, NZPA, The Economist Newspaper Ltd, London, 2011