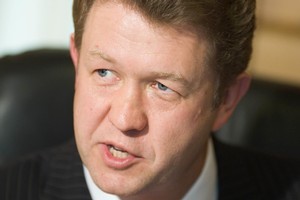 The Labour Party has signalled a willingness to allow private capital into state-owned enterprises - at the subsidiary level.
In a speech to Victoria University's Institute of Policy Studies yesterday, Labour's finance spokesman David Cunliffe spoke of the potential for the Government to leverage its capital investment in growth-enhancing projects through partnerships with business, iwi, local government and the New Zealand Superannuation Fund.
"We can unleash state-owned enterprises to create and grow new subsidiaries with private partners and shareholders," he said.
He was not talking about diluting the taxpayer's equity, or wholly or partially privatising an SOE.
"But we have no ideological problem with a new project attracting a new subsidiary with both public participation and private brains."
Kiwibank had increased the value of its parent, New Zealand Post, far beyond the value of the initial investment, Cunliffe said.
"Labour will over time build Kiwibank into a full-service, full-scale domestic banking institution. We want to retain more banking profits in New Zealand."
Labour would put the Government's own banking business up for competitive tender.
Cunliffe reiterated Labour's plans to change the monetary policy framework - retaining the Reserve Bank's operational independence and 1 to 3 per cent inflation target, but broadening its objectives to include "external balance and growth, including exchange rate conditions for Kiwi exporters".
"We would broaden the monetary tool set to explicitly include complementary monetary instruments like a counter-cyclical core assets ratio and consideration of an inbound transactions tax."
Later he explained that such a tax was only an option under consideration.
"We are not talking about capital controls but we are talking about a tax wedge that would help stabilise the exchange rate as well as being a revenue source."
- Additional reporting: Adam Bennett