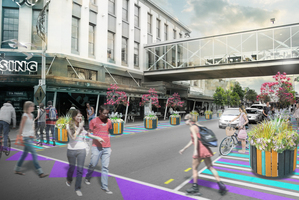 Colombo Street is set to get a paint job in a bid to revive the heart of Christchurch's red zone.
Temporary painted road surfaces and colourful planter boxes will brighten up the stretch of Colombo St from Hereford to Tuam streets in one of a series of revamps targeting streets and public spaces.
The changes are designed to visually narrow the road and slow traffic down to 30km while supporting local businesses.
"The temporary, but vibrant streetscape aims to support established businesses like Ballantynes and the arrival of new businesses," said Christchurch City Council Urban Regeneration Unit Manager Carolyn Ingles.
"The transitional phase provides an opportunity to test new ideas and concepts."
Existing seats and parking spaces in the area will stay the same but extra bike stands, a night-time taxi stand and motorcycle parking will be added to the streetscape.
Construction is expected to be finished by the end of next month, during which time the street will remain open. Once it is complete, the section of Colombo St between Hereford and Lichfield streets will no longer be within the official Red Zone cordon.
- nzherald.co.nz