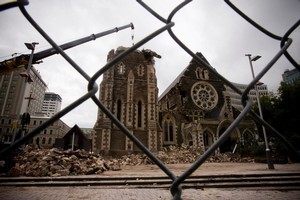 John Haynes saved the lives of 14 people when he lowered them to safety from the sixth floor of the Forsyth Barr building hours after Tuesday's quake.
The stairwell of the 17-storey building collapsed in the tremor, leaving 15 people stuck inside the swaying tower on the corner of Armagh and Colombo St.
Mr Haynes, a mountaineer, saw the only way out was for the trapped workers to be lowered 20m to a car park.
"We put it to them: there was a way out. If they wanted to come, they could.
"If they wanted to stay, they could stay," he told the Dominion Post newspaper.
"The building was going sideways, rocking, and then the stairs collapsed from the top to the bottom, leaving no obvious signs of getting out."
He told the 14 other trapped workers the only way out was out the window and down the side of the building and said he would go last.
"In my mind there was a danger the building could collapse; the other was of fire ... It became obvious we needed to get out."
Mr Haynes, an investigator for the Ombudsman, said that after 9/11, the building had been equipped with emergency supplies, including rope, sledge-hammers, axes and food.
The workers smashed the window and a man of "medium size" descended first to test the equipment.
Mr Haynes and lawyer Grant Cameron then belayed the rest of the workers down the side of the building.
A crane came to the rescue when he and two other workers were left in the building.
Mr Haynes, of Cashmere, is reluctant to call his actions heroic.
"I don't think I'm a hero. It was fortunate that I was able to do what I was able to do."