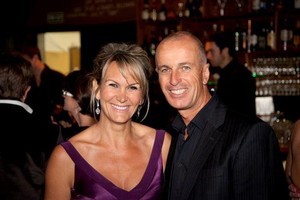 When Jilly Murphy rushed back into her favourite store after the Christchurch earthquake, she had one thing on her mind - her family.
But as she dashed back for her cellphone - an act her family believe she took so she could check on their safety - the shop collapsed.
The 48-year-old air traffic controller had been shopping in the Cashel Mall store Deval when the earthquake struck.
She fled with the store's owner, Deb, but then returned inside.
"Deb watched her go back in and watched the store collapse ... she's a mess," Ms Murphy's close friend Pip Hally said yesterday.
Ms Murphy was days away from celebrating 30 years of service with Airways New Zealand as an air traffic controller - and she and her partner of about two years, Richard Green, were about to go shopping for an engagement ring.
"He was 'The One' - she knew it and I knew it and we discussed it the other week," said Mrs Hally.
"Some of us spend our whole lives searching for The One and you still don't find them."
Mrs Hally said she had spent the days since the quake trying to find her friend's body.
While friends and family were yet to officially identify Ms Murphy's body, it is believed she was found in the rubble, having tried to escape out the store's rear exit.
Mrs Hally said Deb and a policeman friend had confirmed Ms Murphy had died, but trying to track down her body had been difficult.
"It's just crazy. The problem is that there's 100 Jillys - that's the problem."
Mrs Hally said her friend loved spending time with her children and friends and family.
She also had a love of shopping and fashion and her two beautiful dogs.
"Jilly was one of the most beautiful, beautiful people I have ever met.
"This sounds silly, but [she was beautiful] to look at. But the special thing about Jilly was that, dare I say it, a lot of people who are as beautiful as Jilly are actually not very nice on the inside.
"Everything about Jilly through and through was beautiful and she spent her whole life smiling and she was a strong woman. And she was the most amazing, amazing, mother and partner. She was very loyal, she was fun.
"She was probably a rock for a lot of people. She was a brilliant air traffic controller, and it's not an easy job ... Not everyone can do it."
Ms Murphy was a mother to Taylor, 17, and Bond, 15, and Mr Green's son, Sam, 20.
"Jilly's partner and her children were her life," said Mrs Hally. "It's just a real nightmare, to be honest."