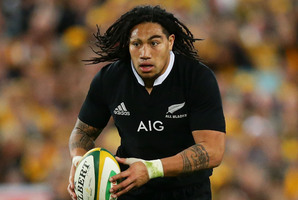 If it was a tacking duel for the sporting public's affections, Dean Barker has, until the past two days, picked all the right shifts while Ma'a Nonu is still adrift on a sea of indifference.
Yet while Barker and his band of mariners have captured the imagination, the fate of Nonu still fascinates.
We've never seen anything like this before. No matter how the New Zealand Rugby Union deals with it, there will be knock-on effects. Nonu - one of the finest second five-eighths New Zealand has produced - cannot convince anybody of his Super Rugby worth.
In effect, the franchise coaches are saying: "We don't like Ma'a, we're better off without him and we couldn't give a flying frisbee what Steve Hansen, Steve Tew and the rest of the politburo want."
It's hard not to have sneaking admiration for Mark Hammett. The circumstances around his ascension to the top job at the Hurricanes still rankle (there were other, more qualified options, one of whom has emigrated from the Hutt Valley to Hamilton and won two titles on the bounce), and he's shown nothing that would suggest he'll ever move out of the ranks of the ordinary ...
but at least he's his own man.
Not that it's going to do him much good. At the conclusion of another disappointing Hurricanes campaign next year, it might be time for Hammett to spruce up that CV.
But back to Ma'a. Writing in last week's Weekend Herald, Gregor Paul put it so succinctly, it is worth repeating:
"In [plain] English, deservedly or not, he's gained a reputation for being a bit of a dick. Gain a reputation like that and it's almost impossible to lose."
That's the strange thing. New Zealand rugby has had an amazing self-policing system throughout its history. While there have been plenty of 'awkward' characters in rugby down the years, 99.9 per cent of the time they get weeded out or have their personalities subjugated to the point where it does not hurt the team.
This is one of New Zealand rugby's bedrocks and separates them from, say, our national cricket team, which historically has had a tendency to fertilise and water the selfish and the silly, then act surprised when they take root and strangle any sense of team.
New Zealand rugby can be even more starkly contrasted with their neighbours Australia. There's no way Kurtley Beale, Quade Cooper and, particularly, James O'Connor, would have been allowed to contaminate the All Blacks for as long as they have the Wallabies.
All Blacks do not live lives of blameless excellence, but those whose behaviour is affecting the team are quickly cut adrift, which makes the case of Nonu even stranger: if he was that much of a problem, he wouldn't have compiled 82 tests and 10 years of service. Would he?
One theory I've heard discussed, and that seems to make sense, is that he is an anti-leader.
That doesn't mean he's a follower, just that he has no leadership aspirations and no sense of responsibility to anybody other than himself off the field. The problem is that Super Rugby coaches assume their internationals will take some ownership of the team and dictate the culture.
Not Nonu.
Whether a malign influence or simply misunderstood, Nonu will be missing from Super Rugby. He'll almost certainly be lacing up his fluoro boots for Clermont, in France.
And the NZRU will use their "discretionary powers" to get him back into the All Blacks next year.
Because we're pretty thin on the ground when it comes to second-fives.
Because when you're suddenly faced with a weak point in your armoury, rules don't really mean a damn.
And don't think that every player agent in the country hasn't noticed that.