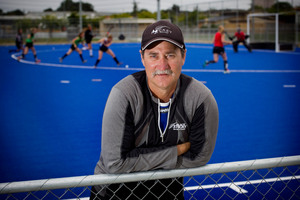 He doesn't strike you as a candidate for a character in a John Le Carre novel, but Mark Hager is thrilled that Australia think he's been spying on them.
Reports from across the Tasman have suggested that Australia believe an undercover agent taped their hockey training sessions at a recent tournament in Auckland. Yesterday, during their first Olympic training session they demanded to know the nationality of a film crew, thinking they might have been Kiwis. To the grave disappointment of conspiracy theorists the world over, they were merely representatives of an Argentine broadcaster.
Hager, an Australian, seemed to find the issue a real hoot.
"From my point of view, I think it's great," he chuckled. "They're obviously a bit concerned about us. It's a positive - they know we're going to be a challenge."
New Zealand meet Australia in their Olympic opener on Sunday. With or without the aid of surveillance technology, the teams are so familiar with each other they have few secrets they can conceal.
For the record, Hager denies the accusation, saying the only filming they did of Australia during the four nations tournament in April was their matches.
"We were going to send Ian Hicks, our video guy who's an Aussie, over to say 'hi' and take a couple of pictures, but no," he joked.
Of more pressing concern to Hager was the fitness of his players, particularly captain Kayla Sharland, who has a leg niggle.
"Yesterday was the first time we had our 16 Olympic players fully fit and training since we picked the team. Touch wood, it looks like we've turned the corner."
The Black Sticks played a practice game overnight against Great Britain and will play Belgium later in the week in their final tune-up. There's not a lot riding on the results but they could serve as a confidence booster after they were hammered 5-1 by Germany recently.
"Yesterday I walked away from training feeling the best I've felt for a while with this group. It was one of our better sessions. The girls are now starting to relax a little bit more," said Hager.
The Black Sticks have spent months getting their bodies adjusted to the early morning starts - the opening whistle against Australia is at 8.30am local time - and using Westlake Girls' High School's blue pitch to acquaint themselves with the colour change.
"It's a bit glary when you first get on there with the yellow balls, but you adjust pretty quickly," Sharland said.