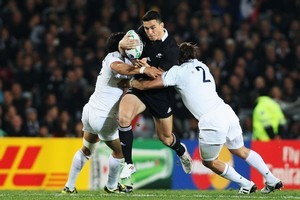 If you think the All Blacks are going to beat France on Sunday night, don't be afraid to say it.
If you think they're going to win by 20 points, that's okay too.
Of all the cloud-cuckoo-land nonsense spouted in the lead-up to the biggest rugby game in the world ever, the most ludicrous is that the nation's over-confidence - arrogance even - could be the All Blacks' downfall.
Even Santayana's fortune-cookie aphorism has been wheeled out: "Those who cannot remember the past are condemned to repeat it."
Well, there's probably not been a day over the past four years that Graham Henry and Richie McCaw have not been reminded of Cardiff, of France, of the potential for Les Bleus to go from Les Mis to La Joie within the space of a week.
The fact that they have won nothing yet and that second place is first-loser has been, and will continue to be, drummed into them this week.
They will not be over-confident and, whether the rest of the country has a swagger on or not, they are the only ones that count.
It matters not a jot what the rest of the country thinks. The walls are thick at their Heritage Hotel lair - rest assured the "job done" vibe will not seep through the walls and into their consciousness.
They're more likely to get subliminal messages by listening to Abbey Road played backwards, rather than through the effrontery of their fans. For months now we've been told how to behave: Be nice to foreigners, even Australians; don't nick stuff out of their campervans; don't charge $6 for a coffee; be humble in victory, gracious in defeat.
As a general rule, the country has done pretty well, judging by the positive noises, but this is not the Soviet Union under Stalin. No one can tell you what to think.
Whether you think the All Blacks will duff France or you're on the verge of an anxiety attack, we can accommodate all types of free-thinking radicals here.
Ever since Australia beat the All Blacks in Brisbane, we've been force-fed the line that the Wallabies were the biggest obstacle en route to the Webb Ellis Cup.
Now that they've been cast aside in an epic victory, are we expected to believe that the flighty French suddenly pose a bigger threat?
Sport is as weird as it is wonderful. Arthur Ashe beat Jimmy Connors. Sunderland beat Leeds. Seabiscuit beat War Admiral. Buster Douglas knocked out Mike Tyson. We remember huge upsets with clarity because they don't happen very often.
But if the unthinkable happens late on Sunday night, do not lie awake tossing and turning at the thought that your over-confidence was to blame.