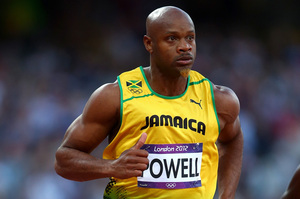 All you have to do to understand how deeply entrenched drug-taking is in sport is to go to Google. Type in "fake penises for drugs testing" and up comes a website called Detox For Less, selling a US$150 Whizzinator.
There's a Whizzinator White, a Whizzinator Brown and a Whizzinator Latino prosthetic penis (it's not clear what happens if you need a Whizzinator Black; there seems to be no such thing), with this message underneath: "The Whizzinator Touch is an easy to conceal, easy to use urinating device with a very realistic prosthetic penis. It has been extensively tested and proven to work under real-life conditions! The Whizzinator is designed to be comfortably worn as an undergarment for extended periods of time."
Why, you may ask, does anyone need a 'urinating device' when most of us already have the relevant equipment?
It's to beat the drugs testers. You strap on your strap-on, fill the 'reservoir bag' with unaffected urine and, when the evil drugs testers arrive demanding samples, you produce your Whizzinator and, er, whizz by squeezing the prosthesis with one hand while discreetly opening the valve with the other hand.
This is designed to circumvent drugs testers who watch athletes actually deliver the sample - as so many in the past have swapped 'clean' urine for their drugs-laden version while alone in the toilet.
Presumably the Whizzinator also takes advantage of the male reluctance to stare fixedly at another male's personal property at such times because, with all due respect to their creators, the Whizzinator may not be too convincing if real scrutiny is involved.
That's what happened to Italian athlete Devis Licciardi who had completed a 10km run in Puglia when he was asked for a sample. He told the tester he wanted to be alone even though drug testing rules state that cannot happen. He was discovered with the prosthetic penis in his underpants and is now facing a two-and-a-half year ban while girlfriend Sara Malpetti is facing two years for allegedly helping him source the clean urine.
It must have made for some interesting breakfast conversation: "Bye, darling."
"Ciao, amore mio - have you got your car keys?"
"Yes."
"Have you got your phone in case I want to call you?'
"Yes, yes ..."
"And your false penis?"
"Blast ... I think I left it in the bathroom."
"Better take it with you; you never know when the testers strike. And please don't let it drip on the floor ...".
It sounds ridiculous until you read on the Whizzinator site the guy who says: "I absolutely love the Whizzinator Touch. I passed my drug test with ease and the person giving the test watched me pee!!! It is worth every penny."
This suggests three things: 1) There actually are dimwits who do this; 2) testers can be beaten by a fake penis and 3) using a Whizzinator may lead to excessive use of exclamation marks.
Then, in all seriousness, you segue to the Jamaican drugs testing regime being carried out or (if you believe the whistle blower) not being carried out in that little country of three million people who have overwhelmed the sprinting might of the United States - who themselves seem to have had top liners on the juice. (Justin Gatlin, Tyson Gay, Marion Jones anybody?)
A former director of the Jamaica Anti-Doping Commission (JADCO) has alleged a near-complete breakdown in the agency's vital out-of-competition testing from January 2012 to the July opening of the Games; out-of-competition testing is one of the few ways to catch offenders.
Her claims are being disputed but the World Anti-Doping Agency confirmed there was "a significant gap of no testing" by JADCO.
This follows Asafa Powell and four other Jamaican athletes failing drugs tests earlier this year. Former 100m world record holder Powell tested positive for a banned stimulant at the national trials in June; Sherone Simpson, a three-time Olympic medallist and a member of Powell's training group, had the same stimulant detected. Discus throwers Allison Randall and Travis Smikle and a junior athlete also tested positive for prohibited substances at the same trials. All five are due to face hearings in December and January.
Veronica Campbell-Brown, a triple Olympic gold medallist, was also found to have taken a banned diuretic but was let off with a warning by her Jamaican disciplinary panel which believed she did not take the masking agent for performance enhancement reasons. The International Association of Athletics Federations will decide soon whether it agrees.
WADA will now undertake an "extraordinary audit" of Jamaica's drug-testing regime.
It all adds up to a critical crossroads for Jamaican athletics - headed, of course, by the brilliant, compelling Usain Bolt. It must be stressed that Bolt has never failed a drugs test. He and fellow sprinter Yohan Blake were subject to announced drug tests by the IAAF as they are in the world governing body's international testing pool. Bolt was tested more than a dozen times in 2012.
Lance Armstrong famously never failed a drugs test - about 600 of them; sprinter Marion Jones passed 160 drugs tests, brought down by the BALCO scandal as opposed to the testing regime. Maybe she used the 'Urinator' - the female version of the Whizzinator and a more easily concealed cloth bag containing a urine pouch, a heater and a computer chip to regulate heating, plus a tube for expelling the liquid.
Either way, track and field is descending into farce as the testers try to keep up with the chemists and the maskers. Many more antics like Licciardi's, and the sport may soon be as much of a joke as the Tour de France now is.